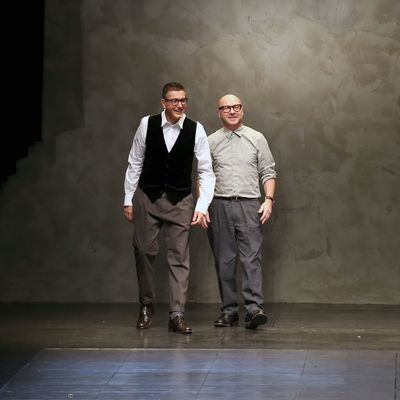 Dolce & Gabbana.
Photo: Vittorio Zunino Celotto/Getty Images
A timely reminder to be honest with the IRS: Italy's Tax Commission has fined Dolce & Gabbana 343.4 million euros, or about $440.2 million, for dodging Italy's corporate taxes, WWD reports. This sentence may put an end to a tangled legal case that has dragged on since May 2009, when the designers were accused of shady dealings related to the 2004 "sale" of their label to a Luxembourg-based holding company called Gado. Domenico Dolce and Stefano Gabbana, who have steadfastly insisted upon their innocence, were absolved of any wrongdoing by a lower court in April 2011, but the decision was overturned by a higher court in November 2011 and reopened as a criminal case.
Dolce and Gabbana will probably appeal the fine, as they did when it was previously sentenced back in 2011. What's extra-confusing about this lawsuit is that it's being tried concurrently in Milan; the Tax Commission's fine is somehow separate from the court case, even though they're both related to the same charges. What a mess. It's probably safe to assume that the label will not be holding another swoon-inducing couture weekend in Sicily this summer — but then again, denial can be a very powerful thing.