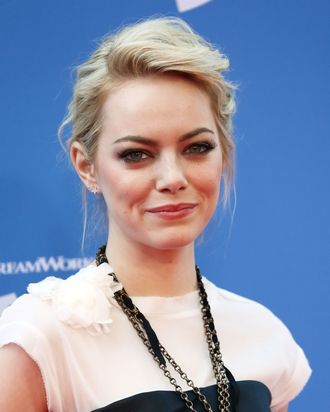 Photo: Neilson Barnard/Getty Images
Poor Emma Stone. The face of Revlon gave a bunch of beauty-oriented interviews at a product launch Wednesday, and they seem a little strained, considering she's a self-proclaimed makeup minimalist who is allergic to basically everything but mascara. (She does love mascara though!) She tells Cosmo she doesn't know what's sexy beauty-wise ("it depends on how my mental state is"), or what guys think is sexy ("I could care less"). She doesn't have any beauty secrets ("Do you? I need some!"), or any onscreen kiss secrets ("I'm also taking tips on that"). But anxiety? That she can talk about eloquently and at length. Asked for the best advice she ever received, she said:
"My mom always says to cross that bridge when you get there, because I lose perspective a lot of the time … which is a beautiful symptom of anxiety, where you're constantly 18 steps ahead to the worst case scenario. My best friend and I have also recently been saying "bones." I just went to the Catacombs and saw all of these bones of people stacked on top of each other where it once was a functioning city. So, when I lose perspective, I try to remember that we're all just bones trying to get along and we'll all eventually be bones again one day. Sorry to get so dark [laughs]."
Stay complicated, Emma.