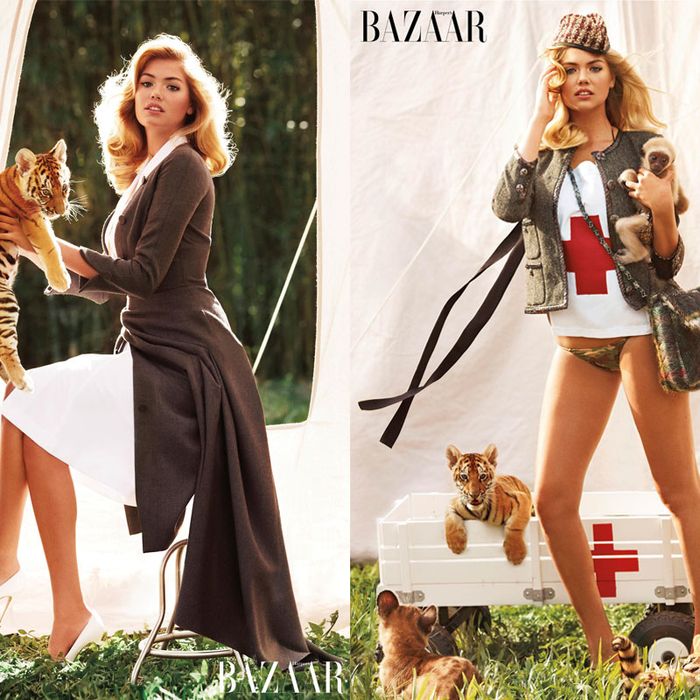 Kate Upton and creatures.
Photo: Courtesy of Hearst
Carine Roitfeld's second editorial as global fashion director of Harper's Bazaar came out today, and shows a familiar cast of characters — namely, Kate Upton and several baby animals, just like Carine's debut issue of CR Fashion Book. Hey, if it worked before, it'll work again! Monkeys are Carine's thing these days, it seems.
Titled "The Animal Nursery," the sixteen-page spread shows Upton as well as Irina Shayk, Senait Gidey, Tilda Lindstam, and Soo Joo Park wearing outfits from the pre-fall collections as they tend to small critters under a beige tent in the middle of a field. They also wear nurse caps and stethoscopes, giving the pictures a Richard Prince–meets–Out of Africa vibe. In an e-mail, Roitfeld tells the Cut, "The shoot was a dream come true because I had never held a baby monkey and baby tigers before." (She has, however, had extensive experiences with a baby pygmy pig, so she's just working her way up the food chain.)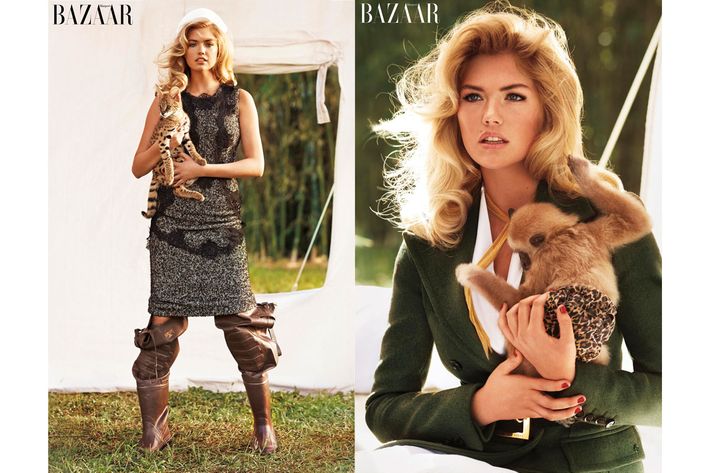 As for Upton, who posed for CR's first cover last year with fluffy little chicks clutched to her bosom, the editor says, "Kate was so incredible, very cool. She was the most relaxed out of all the girls with the animals. You can tell she feels very connected to nature. I was very surprised how wholesome she is." Meanwhile, Upton picked favorites too:
Shot in Miami by Sebastian Faena, the spread features many of the same designers as Roitfeld's first one did, including Giorgio Armani, Calvin Klein, Céline, Chanel, Dior, Dolce & Gabbana, Givenchy, Bottega Veneta, Louis Vuitton, and Alexander Wang — all her "fwiends" again, in other words. It'll come out in all 26 international editions of the magazine over the next few months.