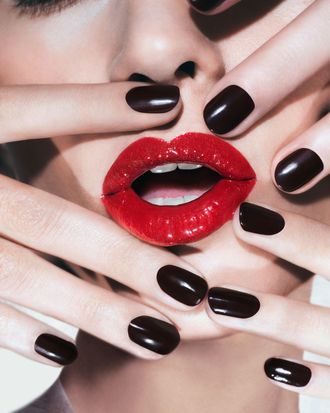 British facialist Nicola Joss begins her mass-odge facial with a warm detox mask, but before I can settle into thinking it's a cakewalk, she's up and at 'em, working oil into every nook of my face with great authority. I whimper, but she assures me, like a pro boxing coach, "When I began doing this to myself it hurt a lot, because I had loads of tension in my facial muscles, but now it doesn't hurt at all."
One look at this pretty, blonde vegan of indeterminate age, and I'm thinking, "If I endure this, will I look like you? Okay. Go." A veteran of the fashion industry (having worked with top names like Kate Moss, Inez and Vinoodh, and Vogue), she now travels the world for Sanctuary Spas, making the world's most beautiful people more beautiful. Her technique boosts muscle tone and blood flow to the skin, which means plumper cheeks, higher brows, and less of those deep worry lines. She points out that wrinkles are not the main thing people should focus on when trying to maintain a youthful appearance. Sagging facial muscles are much more of a giveaway of one's age.
Joss can tell a lot by feeling someone's face. After rapidly drumming her fingers on my cheekbones, she says, "You have muscle atrophy on your left side. Do you sleep on that side?" I admit that I do, and make a mental note to stop. After working both sides of my jaw and brow, Joss pulls on rubber gloves and sticks her fingers inside my mouth, getting deep under my cheekbone and yanking hard. I let out a loud yelp. "Don't worry. There will be no bruising," she assures me.
Immediately after the treatment my face is warm and sore, but not red or inflamed. At the office, someone asks me why I keep touching my jawline like I've had dental work. The following morning, my cheekbones do look fuller. I can't tell if it's because everything is sort of swollen. Either way, it's nice. The whole day I make funny yoga faces and rub the spots around my cheeks that remain tender.
When you get facials as infrequently as I do, you tend to be more susceptible to feelings of transformation, and this one did inspire me to want to take better care of my face. However, at $275 for one visit, this might be something you'd do every once in a while and keep up the maintenance yourself. Joss is emphatic that at-home daily massages are the best way to see real changes; many demonstrations of facial massage exist online, but I've yet to find one as vigorous as anything I experienced with Joss.
Toward the end of the treatment, she talked me through self-massage methods to use at home, preferably nightly for maximum results. Once in bed, she suggests rubbing a few drops of Therapists Secret Facial Oil over the face in circular motions, working under the cheekbones. This idea takes some getting used to, she warned me, because "People are conditioned not to touch their faces so much." It's true. Even though it felt great when Joss did it, rubbing oil all over my face with my bare hands seems like a recipe for insta-acne. So I've been putting it off.  A week later, I'm still building up the courage to try. I have, however, mastered sleeping on my back. One small victory in the war against neurotoxins.