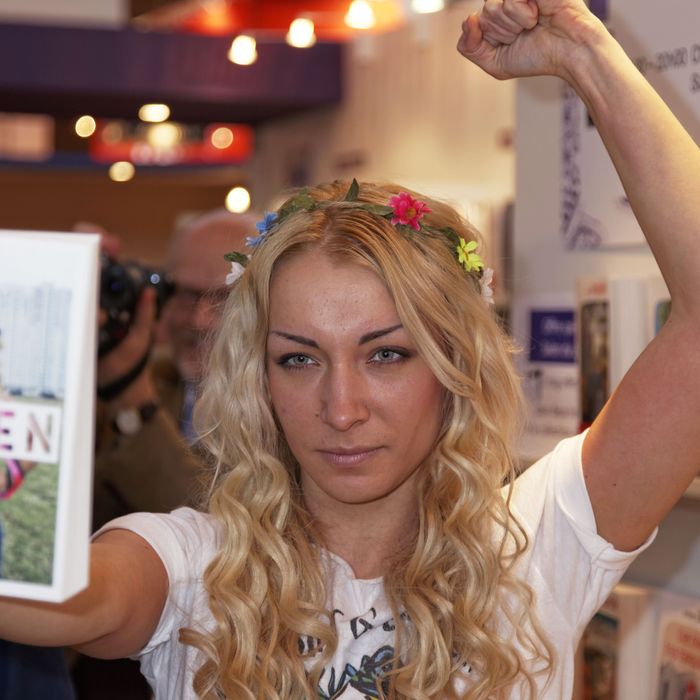 Femen's so-called "topless jihad" in support of Tunisian member Amina Tyler has grown into a bigger project, leader Inna Schevchenko declared. "At the heart of Islamism lies the enslavement of women based on control over their sexuality," she wrote in an op-ed for CNN. As a result, Schevchenko says the aggressively topless activists plan to take on not just Tyler's Tunisian captors but all of Islam.
Or is it just Sharia law?
A mass sexual protest inspired by our example will serve as the first step toward women's recovering their own nature and will be a turning point, sparking the dissolution of the Sharia and the return, to women, of control over the conditions of her existence, from the sexual to the political.
In any case, the mass sexual protest only applies to Arab Muslims.
I hereby both promise and threaten to deploy an entire network of Femen activists in Arab countries. We will hound Islamic leaders across the globe, subjecting them to desolating criticism. We intend to hound spiritual leaders who are personally responsible for mistreating women.
Confused? Just trust them.
Our understanding of Islamism, according to what we have learned fighting against it, tells us that our criticism of it is valid and holds out much hope for the future.