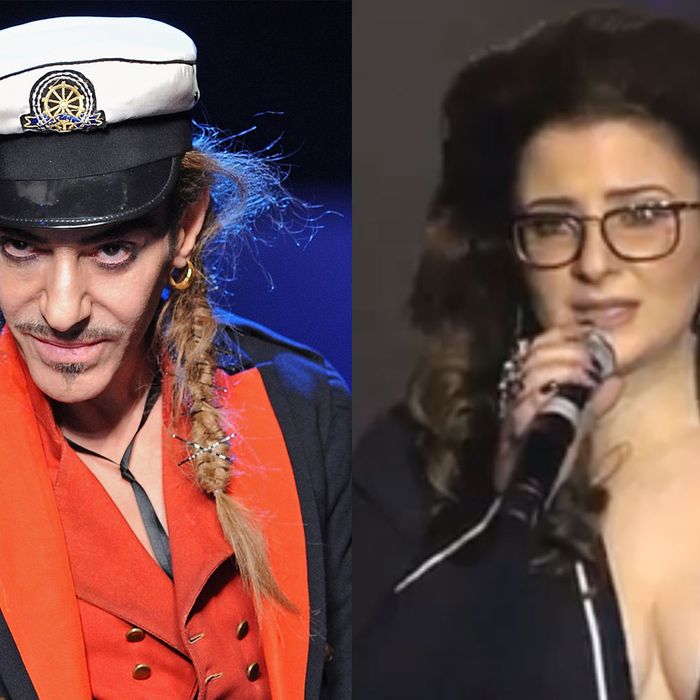 Photo: Pascal Le Segretain/Getty Images; Eurovision
Moran Mazor, the Israeli entrant in next month's Eurovision Song Contest, can't take the stage in a dress that John Galliano agreed to create for her, the Jewish Telegraphic Agency reports. In a recent interview with news website Mako, Mazor explained her stylist reached out to several Israeli and international designers, including Galliano, who said he would be happy to dress the singer, called the "ethnic version of Adele."
However, the Israel Broadcasting Authority, which airs the competition and sponsors Mazor, has barred her from wearing Galliano. In a memo obtained by Israel's Haaretz newspaper, Yoav Ginai of the IBA wrote that at a time when racism and anti-Semitism are rampant throughout Europe, it's unacceptable to let Galliano clothe a Eurovision representative, even if he's apologized for his past actions.
The IBA's decision is a blow to Galliano, and comes a few months after the Anti-Defamation League formally forgave the designer. In a January WWD article about Galliano's three-week-long residency at Oscar de la Renta's studio, ADL's national director Abraham H. Foxman said, "Mr. Galliano has worked arduously in changing his world view and dedicated a significant amount of time to researching, reading and learning about the evils of anti-Semitism and bigotry. Along his journey to recovery he met with us on numerous occasions. He has accepted full responsibility for his previous remarks and understands that hurtful comments have no place in our society."
When contacted about the Eurovision ban, Foxman told the Cut: "Mr. Galliano has continued to work hard not only in changing his worldview, but in establishing relationships. It is great to see that he is now involved with Israeli artists. The Israel Broadcasting Authority must realize that this is a changed man — he has consistently shown us that he is taking steps to understand and grow from his mistakes and at this point, to continue to boycott him is not constructive."
Forgiveness is a mitzvah, guys.