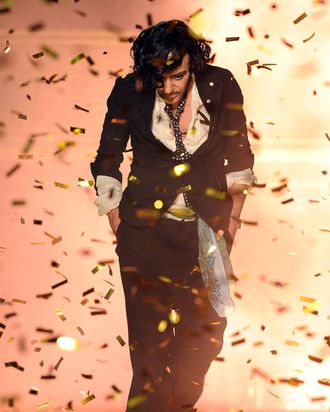 Photo: Pascal Le Segretain/Getty Images
After spending the lead-up to New York Fashion Week in Oscar de la Renta's Bryant Park atelier, John Galliano is packing his six Louis Vuitton bags, several hatboxes, and tiny dog, and returning to Manhattan — specifically, Parsons the New School for Design. According to Lucky, Galliano plans to teach a master class entitled "SHOW ME EMOTION," divided into a three-day-long workshop led by the designer and a day of critiques with Galliano and Simon Collins, Parsons' dean of fashion and noted Galliano fanatic. Only senior BFA candidates studying fashion can participate and "will be chosen based on pre-submissions of their work along with required faculty recommendations, a short essay or video, a visualization supporting their entry and a minimum 3.0 GPA."
Last month, the former Dior designer met with second-year students from the B.A. in womenswear fashion program at Central Saint Martins in London to comment on their Edward Hopper–themed work — part of an ongoing collaboration between the designer and the school.
Update: Parsons the New School for Design released the following statement:
An invaluable part of a Parsons education is the opportunity to learn from the world's leading designers, from Donna Karan and Diane Von Furstenberg to Olivier Theyskens. The planned master class with John Galliano will be a dynamic and intimate opportunity for our students to learn from an immensely talented designer. We believe that over the past two years Galliano has demonstrated a serious intent to make amends for his past actions, and as part of this workshop, Parsons students will have the opportunity to engage in a frank conversation with Mr. Galliano about the challenges and complications of leading a design house in the 21st century.