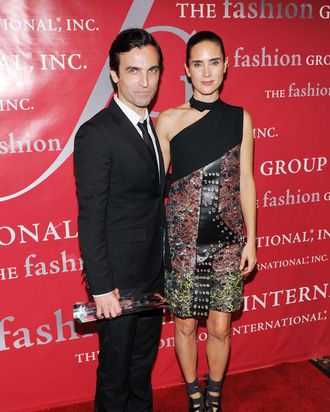 Nicolas Ghesquiere and Jennifer Connelly.
Photo: Stephen Lovekin/Getty Images
With the exception of three little tweets, Nicolas Ghesquière hasn't made a peep since his abrupt split from Balenciaga last November. But this shall soon pass: He's on the debut cover of a new magazine, System, which will also include a corresponding profile titled "Back to Work." Why grant his juicy interview to a nascent publication instead of one of its more established brethren? He's keeping it in the family: System will be edited by Ghesquière's longtime collaborator, stylist Marie-Amélie Sauvé, who worked with him at Balenciaga throughout his tenure and followed him out when he left. If anyone could get him to talk, it'd be her. The magazine comes out in May, according to T.