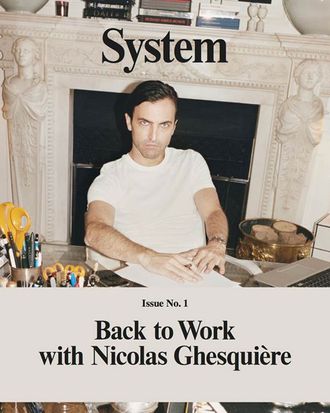 System magazine's cover story landed online last night, meaning Nicolas Ghesquière's first post-Balenciaga interview is out there. Portraits of the designer in his Paris studio shot by Juergen Teller and a fashion editorial featuring Balenciaga pieces — mostly from Marie-Amélie Sauvé's personal wardrobe — styled by Sauvé and photographed by Patrick Demarchelier accompany the interview.
After initial reports citing a "joint decision" between the designer and fashion house to end their working relationship and a comment by Kering's François-Henri Pinault implying Ghesquière was let go ("We decided that with Nicolas it was time to separate our path … after 15 years, it was quite a noble decision"), Ghesquière said, "over the last two or three years it became one frustration after another." Among them, as recounted to System's Jonathan Wingfield: "There was no one helping me on the business side"; "They wanted to open up a load of stores but in really mediocre spaces, where people weren't aware of the brand"; "There wasn't really any direction"; and there was increasingly little distinction between his own brand and Balenciaga's brand to observers.
It was really that lack of culture which bothered me in the end. The strongest pieces that we made for the catwalk got ignored by the business people. They forgot that in order to get to that easily sellable biker jacket, it had to go via a technically mastered piece that had been shown on the catwalk. I started to become unhappy when I realised that there was no esteem, interest, or recognition for the research that I'd done; they only cared about what the merchandisable result would look like.
Though Ghesquière "endlessly" asked for support, he felt surrounded by people who didn't understand fashion. So he told himself, "Okay, well you have to leave, you have to cut the cord," and once he did, he caught the higher-ups off-guard. At the time of the formal announcement, he was in Japan with a friend, but:
When I got back to Paris I saw the press, and with all the commentary going on I actually learnt things about myself; it was quite beautiful in fact. Generally the reaction had been very positive, even on Twitter there were some very satisfactory things being written. Ultimately, I felt okay in the end because it seemed very dignified. I haven't expressed myself up until now, but I would like to say thank you to everyone, I really am very grateful.
"Now I can imagine a whole new vocabulary," he adds. "I'm regenerating again, and that's very exciting because it's a feeling I haven't had since I was in my twenties."
The inaugural issue of System also contains an interview with Yves Carcelle, former CEO of Louis Vuitton, and a conversation between makeup artist Pat McGrath and Dr. Sebagh. It goes on sale Stateside at Opening Ceremony, Universal News, Bookmarc, and selected newsstands this week.
Wingfield, Elizabeth Von Guttman, Alexia Niedzielski, and Thomas Lenthal are already working on a second issue for September. "We all felt a frustration with the systematic way in which fashion magazines were being approached and wanted to create something which took a more in-depth look at the personalities, thoughts and motivations … a magazine to read and learn instead of just flicking through pages," Von Guttman and Niedzielski remarked.