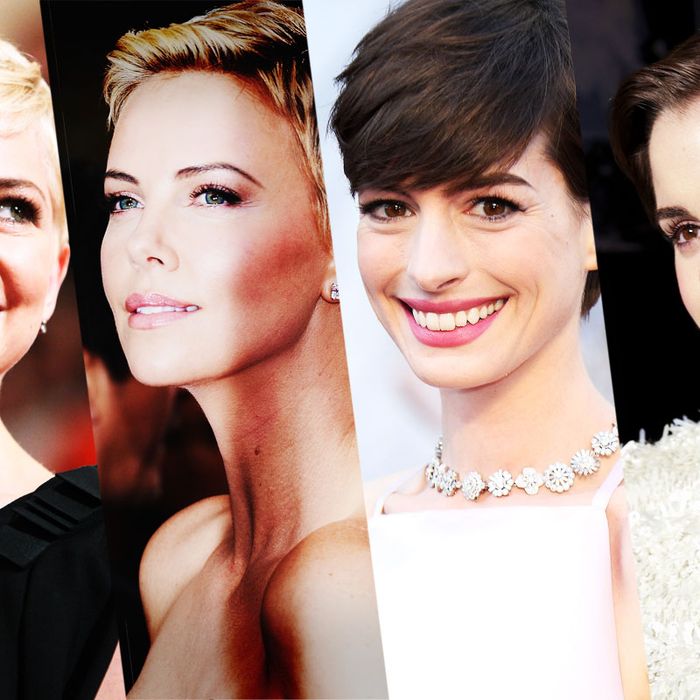 Photo: BFA, Getty Images, Getty Images, Getty Images
Blame Charlize Theron. Or Emma Watson, Michelle Williams, and Anne Hathaway (you know you want to blame that one). Because of them, some women in their fifties and older, who once absolutely owned the pixie cut, are currently enduring hair that's in that extremely awkward growing-out stage.
Nunzio Saviano's client is one of those women, who wanted — or felt like she should have — short, practical hair well past retirement. Then, a few months ago, she sat down in her stylist's chair at Sharon Dorram Color at Sally Hershberger on the Upper East Side and declared she was done with her cropped hair.
"It was a such a shock to me," Saviano says. "She had the perfect hair texture and face shape for the cut, but she said 'Now that I see all of these young actresses with short hair, I can't wear it this way. It looks good on them."
Two-inch 'dos may be the trendiest cut in Hollywood, worn spiked up like Theron's or flat with side-swept bangs like Hathaway's, but that's relatively recent. For a woman of a certain age, the cut's a classic. Think of Shirley MacLaine in Steel Magnolias. Or more recently, Ellen DeGeneres. These ladies had the garcone look long before the likes of Ginnifer Goodwin ever did. It used to be that as you got older, your hair got shorter. Your beauty was fading so what did it matter if your hair disappeared, too? These women had their own identifiable hair club.
"Older women want a point of difference," says hairstylist Ric Pipino, whose new salon with Patrick Melville, the Patrick Melville Pipino Salon, opens this spring in Nolita. But, "In the fashion that's going on [now], there are lots of short haircuts."
Oscar Blandi, who has a namesake salon on Madison Avenue, agrees. "I can see an older woman feeling uncomfortable having the same haircut as today's young Hollywood starlets because it can make them feel trendy, even if they have already been wearing the same style for years before the trend takes off," he says.
Pipino helped convince Judy Lombardo, 66, who lives in Brooklyn, to grow out what she called "the Ohio mom cut … It was short, practical hair," she says. "You could see the chop lines in it."
Her hair's now long enough to tuck behind her ears, and when she looks in the mirror, she's pleased that the lengthier locks have helped draw attention away from some of the angles and lines she'd begun to see on her face. Plus, she says of her bleached-blonde look, "My husband really likes it." She's not done growing yet, either. "I'd love to see what I look like on a hot summer day," she says. "You know when you put your hair up in a ponytail, how cute that is? I don't know if I can do that, but I'm going to try."
If Hathaway's Les Mis scalping made her the most prominent young actress with barely-there hair, Helen Mirren has been a standard-bearer for older women looking great with longer hair. Her sometimes-pink hair (she's the best) barely grazes her cheekbones now, but was down to her jawline at the beginning of the year. "It makes her seem much softer when it's longer," says Paul Labrecque, whose newest New York salon opened this month in the Sports Center at Chelsea Piers. "Her eyes look better and her jowls less prominent."
Labrecque adds that he doesn't encourage cuts where the ears are exposed for his older clients — or the thinking that your hair has to get shorter as your age advances, which he calls passé. "Sometimes what looks trendy on a younger person looks suburban on an older person," he says. Like the hair itself, this trend may need time to grow: Right now, older women growing their hair seem to be mostly city-based. And Labrecque guides his clients in New York more toward styles like Diane Keaton's or Rene Russo's ("That cut pops up all of the time," he says, referencing a shoulder-grazing pumped-up bob).
To help with the inelegant growing-out stage, he's been turning toward the same aid Victoria Beckham used to ease out of her boy cut: extensions. When his client Pam Brewster turned 55, she decided that her platinum blond, hedgehog style was "the kind of haircut that you couldn't have a lot of wrinkles to wear." Her thinking seemed to change along with society's: Women, helped by green juice or Botox or Demi Moore, are no longer seeing their advancing years as the endpoint to their superficial beauty, and changing their hair to suit that. Still, Brewster hated how hers looked as she let it grow. "Each time I'd ask Paul, 'You think my hair is ready for extensions?'" she says, "But it was always too short. He'd tell me, 'No, you'd look like a fool. You can't do it.'"
Finally one day last August, he said her locks were long enough to hide extensions sufficiently. Her sixteen self-adhesive Quikkies, which start at $450 a set, "have made such a world of difference in my life," Brewster says. "I never thought it would transform me so quickly. Ninety percent of people didn't even know who I was until I opened my big mouth."
"I never thought I'd be so foolish, to spend that kind of money on myself at this age," she says. "But then I just said 'I'm worth it.'"
Sarah Lee, 50, who works at Cartier on Fifth Avenue and gets her hair done by James Vides at Sally Hershberger downtown in the meatpacking district, is another short-to-longer success story. She went from "like an inch all over my head" to chin-grazing and won't be going under aggressive scissors or razors ever again, she says.
"When your hair is that short, it forces you to be totally out there," she says. "It's not like people are like, 'Look at this beautiful hair.' It's about your face. I'm glad I did it, but it's not my look now. I don't want to say it boxes you in, but it kind of does."
That's something Hathaway — and her haters — would probably agree on.