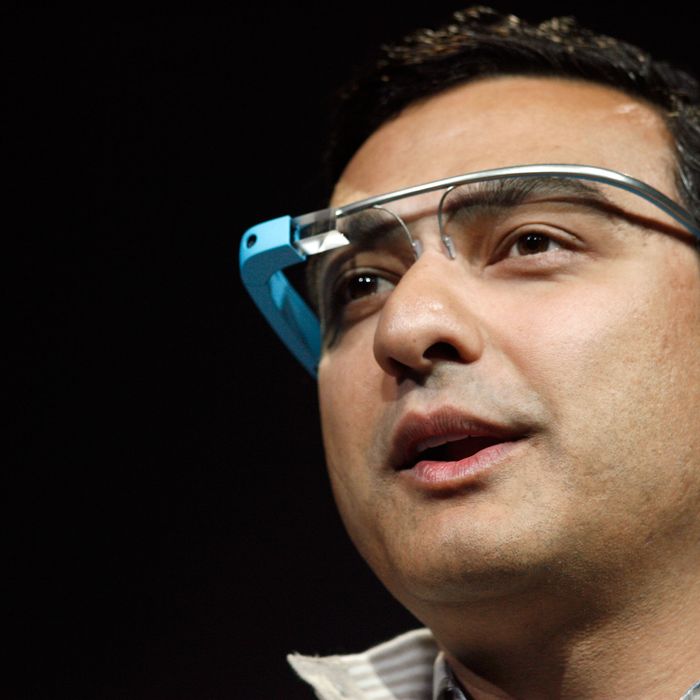 Google Glass.
Photo: AFP/Getty Images
Google Glasses are slowly but surely making their way onto the market, seven months after their questionable debut in Diane Von Furstenberg's fashion show last September. And despite all their fashionable overtures — DVF! Warby Parker? — they're still woefully dorky-looking. (We can confirm this from personal viewing experience, as well as that of an unnamed friend who works at Google and sees "silly-looking people wearing them around the building" all the time.) Now that they're being sold in limited batches to select people — very select, especially since "Glass Explorers" must be vetted and still pay $1,500 a pair — a few are starting to show up in social settings.
Yes, Google Glasses look weird, and anyone who wears them out and about will get strange looks despite (or perhaps because of) their ability to instantly Google anyone they're trying to hit on. But now there's anecdotal evidence that they won't devastate your chances of getting laid as much as we originally thought. According to Bowery Boogie, a man wearing Google Glasses was seen out in the wild — at a Fitz and the Tantrums show at Webster Hall, to be exact — and seemed to be doing just fine with the ladies:
Apparently the cyborg spectacles are not a chick repellant (yet) as he was sucking face with a blonde for the entirety of the show. Dude barely hit the surface for air.
So, when will the first Google Glass–filmed porno come out? It's only a matter of time.