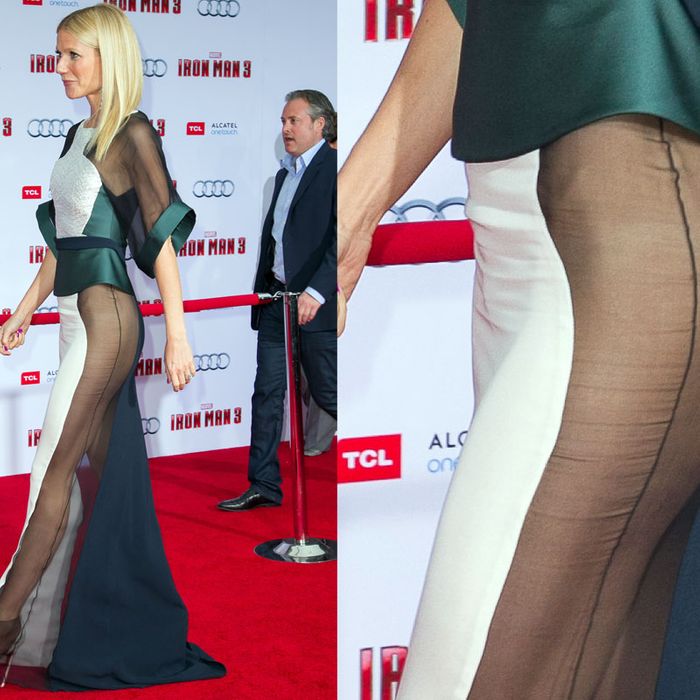 Photo: John Salangsang/LEP/Splash
Ellen DeGeneres interviewed flaxen-haired folk hero of anal retentiveness Gwyneth Paltrow for today's show, and asked about her side-butt-revealing Antonio Berardi gown. Confronted with a picture of her own nearly naked ass, Paltrow admitted she "kind of had a disaster" when she put the gown on. Apparently it required an emergency hair removal session that took Gwyneth "from the most beautiful to the most humiliated in one day."
DeGeneres: I think there are questions here, and the question is—

Paltrow: Why is her ass hanging out?

DeGeneres: It just appears you don't see anything in the, uh, area where you'd see it.

Paltrow: Underwear?

DeGeneres: Right.

Paltrow: I kind of had a disaster. I was doing a show, I changed there, and I went and I couldn't wear underwear—I don't think I can tell this story on TV. … Let's just say everyone went scrambling for a razor. [studio audience begins to scream] And so, I went from being the most beautiful [gestures to People magazine] to the most humiliated in one day.

DeGeneres: Oy. [studio audience screams some more] I really have some questions now because you certainly don't take care of yourself if—I mean—it was just the side of your legs. What was going on with you if—

Paltrow: I work a seventies vibe, you know? No, I don't. End cut!
Most beautiful and most hated. Most flawless and most hairy. Gwyneth Paltrow contains multitudes.