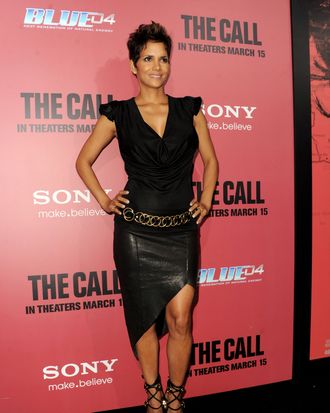 Halle Berry.
Photo: Kevin Winter/Getty Images
Halle Berry is reportedly three months pregnant with a boy, says Us Weekly. It's her first child with hunky fiancé Olivier Martinez, to whom she's been engaged since December 2011. She also has a 5-year-old daughter, Nahla, from her previous relationship with Gabriel Aubry.
At 46 years old, Berry is already being subjected to tasteless Internet comments about pregnancy at "her age," which is extra-absurd because 46 in Halle Berry years is basically 16 in normal person years (another possibility: She's aging in reverse, Benjamin Button–style). What's more, Berry is really glad she's having kids in her forties, according to an interview with Wendy Williams last year:
I'm a much better mother at 46, or 41 when I had her, than if I were 21 or 25. I was just a little baby, just trying to figure it out, trying to figure out who I was, let alone have the responsibility of trying to help another little soul develop and grow … I'm so glad I waited.
So, hush your judging, and congrats to her.