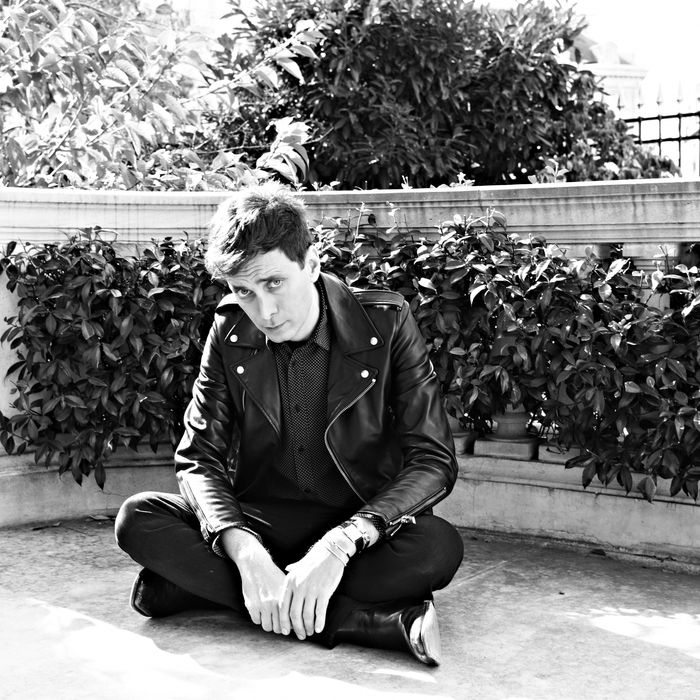 Hedi Slimane.
Photo: Handout/Yves Saint Laurent/Getty Images
Today's Times has a juicy profile of Saint Laurent designer Hedi Slimane, for which he "declined to be interviewed," that refers to him as the following things: "artist," "elusive figure at best," "diva," and "the one true heir to the legacy of Saint Laurent" (the latter from the lips of Yves Saint Laurent's lifelong partner, Pierre Bergé). Predictably, the article covers well-trodden territory like Slimane's contentious relationship with the press; disregard for the industry's established hierarchy (he put his musician friends in the front row and forced critics to stand at his first show, horrors!); and the backlash he got for dropping "Yves" from the label's name, which seems even more trivial now that we've all gotten used to it.
But let's get to the juicy bits: Apparently Slimane has "burned bridges" with many people in the industry, but whether that's his fault or the fair-weather nature of many fashion relationships is hard to say. From the Times:
[In 2007], Mr. Slimane moved to Los Angeles to pursue his interest in photography. And with little explanation he broke ties (some would say he burned bridges) with many of the people who had supported him at the start of his career. Friends who had known him for years were suddenly shut out, or shut him out. Karl Lagerfeld, who included Mr. Slimane in his entourage in Paris, stopped wearing his clothes. Jean-Jacques Picart, the consultant who encouraged Mr. Slimane to become a designer in the first place, said in an e-mail message, "I can't say anything about Mr. Slimane, and to be very honest, I don't want to."
But despite Slimane's prickly reputation and unpopularity with critics, no one can argue that he has a knack for getting attention and making money. Following his splashy womenswear debut in Paris last fall, his designs were immediately sought after by editors, celebrities, and, most important, luxury buyers, who were falling all over themselves to place orders. The clothes subsequently appeared on A-listers like Lady Gaga, Kate Moss, and Angelina Jolie, as well as multiple Vogue covers. Now that his spring collection has finally arrived in stores (after some delays, apparently), retailers say it's flying off the shelves:
Barneys New York had sold 60 percent of its spring order at full price as of last week, including a $14,000 dress. Jeffrey New York also sold out of several key looks.

"When we were buying the collection," said Jeffrey Kalinsky, the store's founder, "I felt like I was seeing dollar signs."
Who is buying these clothes, which include sweaters from $1,500 to $2,000 and dresses from $1,990 to $3,990, at such a rapid rate (besides Kim Kardashian, of course)? Does it even matter? The point is, regardless of what critics say or what certain people think of Slimane as a person, he's making clothes that wealthy consumers clearly want to wear.