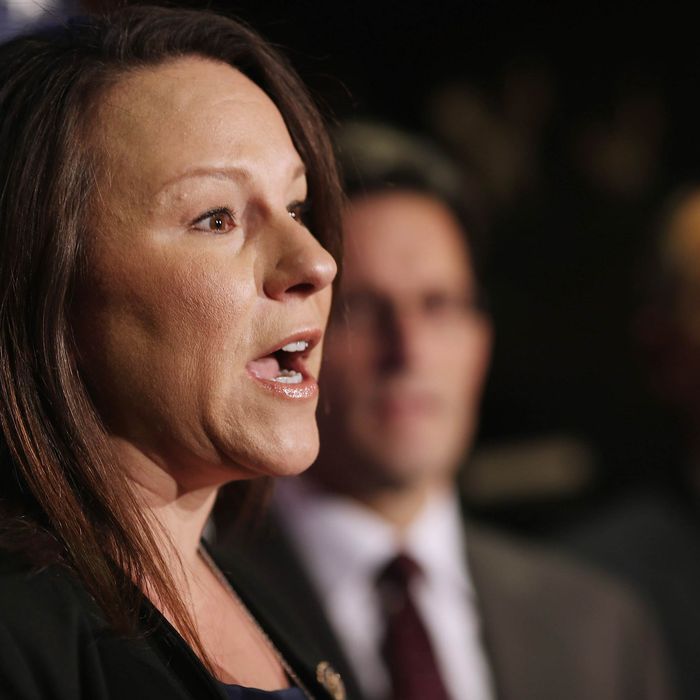 Photo: Chip Somodevilla/Getty Images
House Republicans are trying to sell moms on legislation that would allow private employers to pay overtime wages in paid time off, instead of the 75-year-old policy of time-and-a-half.
According to USA Today, the House Republican campaign operation has spent $20,000 on banner ads that will appear  across 100 women's sites, including MarthaStewart.com and Ikeafans.com. The ads are geo-targeted to Democratic-held congressional districts the party hopes to flip in 2014 and ask readers to tell their representatives "you shouldn't have to choose between work and family." "Will Rep. Colin Peterson stand up for working moms?" says one that will run in Minnesota.
Republicans have also chosen a young mother, Alabama's Representative Martha Roby, to be the face of the legislation, called the Working Families Flexibility Act. She told USA Today:
"I'm a mom. I have two kids. I certainly have a very clear understanding of the pulls working families have on them when it comes to juggling home-time with work-time."

"Comp time is comp time, and you can use it for whatever you want. Think about going to your child's play, not just a doctor's appointment. You don't want to take vacation time for that."
Similar legislation has been bouncing around Capitol Hill for years; one recent attempt died in committee in 2003. In the past, Democrats argued that the proposed legislation would only weaken overtime rights, because the comp time will be controlled by employers, who may also discriminate against employees who want to be paid their overtime wages in cash. Democrats also have an alternate plan for making sure moms "don't have to choose between work and family": Demand employers offer family-friendly leave policies and pay overtime wages.