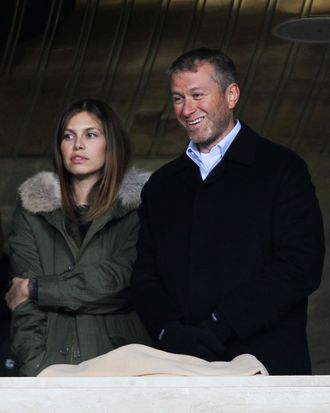 Photo: Epsilon/Getty Images
Last Monday, Dasha Zhukova — socialite, Garage magazine editor, and girlfriend of Russian oil mogul Roman Abramovich — gave birth to daughter Leah Lou in New York City. She opted for a luxe birthing suite used by Natalie Portman and Alicia Keys at Roosevelt Hospital on the Upper West Side, just a few blocks from the Hudson cruise terminal where Abramovich's yacht, until recently the largest private yacht in the world, has been parked for the past two months, to the tune of $2,000 a day. "Mother and daughter are doing fine," according to a RIA Novosti source. "Roman is, of course, delighted," at the arrival of Leah Lou, his seventh child and second with Zhukova.
As for Zhukova's hospital exit, the Eclipse — which boasts two swimming pools, two helicopter pads, a movie theater, a jacuzzi, a disco, 30 cabins, a mini-submarine, a missile defense system, and a bulletproof, armor-plated master suite decked out with lasers designed to confuse long-lens photographers — was set to depart as early as Saturday, according to Animal NY. Some have suggested that this drive-by birth might make Leah Lou the world's richest anchor baby — the GOP-feared children born in the U.S. to undocumented parents — but the Daily Mail says Zhukova's U.S. citizenship means Leah Lou would have been an American no matter where the Eclipse docked. And certainly in spirit.