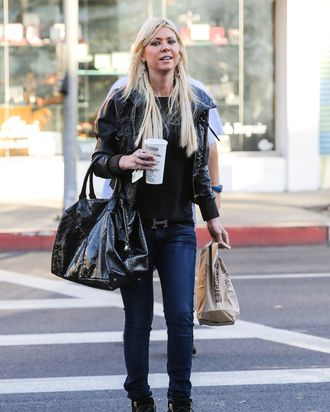 Famous people, we all know, get things for free. Their drinks are comped. Their dresses are on loan. Hollywood has an entire economy dedicated to "gifting." But there are at least two things famous people do not get for free: Their husbands out of DUI arrests, as Reese Witherspoon discovered this weekend. And discounts at All Saints "because of fame," as Tara Reid discovered this weekend.
Shopping for "an outfit for Coachella" at L.A.'s All Saints this weekend, Reid demanded a discount with such force that she got kicked out of the store, "Page Six" reports:
"She was screaming," said a source. "She had to be escorted out by security. She seemed drunk."
[S]he "demanded a discount." When the store declined, Reid insisted she deserved the break "because of her fame," a spy said. She then "began to scream at them and was escorted out."
Reid's publicist says she wasn't drunk on alcohol — just fame. Normally "fame" gets her a "huge discount":
Tara gets a huge discount with All Saints in the UK and Paris because she's a walking billboard for them," the rep snapped. "She gets photographed … so they give her huge hookups. We told them we get a discount, and they said they'd email the press team."
All of which is but a preamble to asking: How much is the shopping discount for "fame"? If you're photographed while shopping, does it increase? What if you're photographed shopping while drunk? Will fame get your loved ones out of arrests for SUI, Shopping Under the Influence?