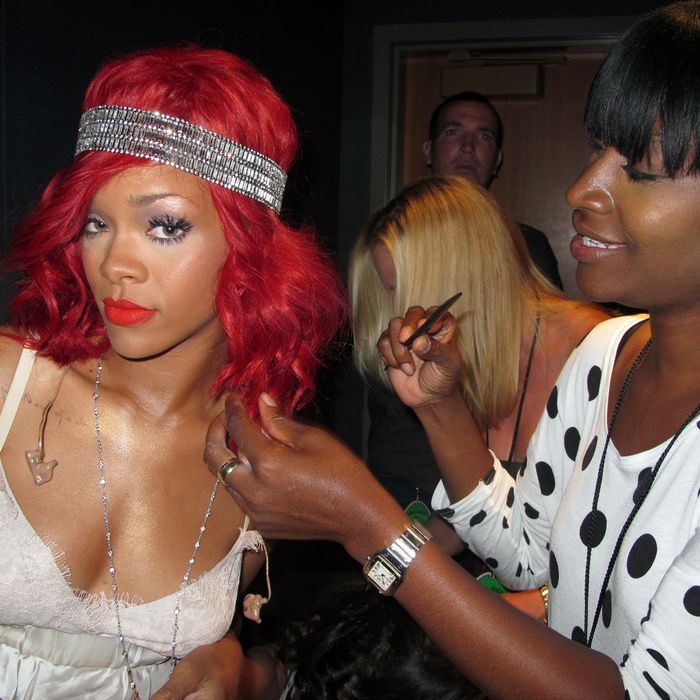 Photo: Courtesy of Ursula Stephen
As told to Alyssa Shelasky.
I was born in raised in Brooklyn, the Crown Heights/Flatbush border. As a little girl, I didn't like what stylists did with my hair. I was always like, "Why she did that? That smells horrible!" I'd come home and make it prettier.
My mother, who's from Grenada and very old-school Caribbean, set me up in her laundry room, in the basement. She put a mirror on a nail; we laid all my stuff out, and I'd do my friends' hair. After junior high, I was like, "I just want to do hair." My mother's hairstylist told her to send me to Sarah J. Hale, a vocational school where I could learn hair. It changed my life. I worked every day after school, with curling irons in my book bag. The neighborhoods I worked in were all African-American — it just made sense to work at the salon on the corner of my mother's house. Then I worked in downtown Brooklyn, which felt big.
Not only was I a great haircutter as a teenager, but because of my classes, I knew how to do black hair and white hair. The truth is, it's no different. Hair is hair. A cut is a cut. Obviously if you have kinkier hair, it requires certain skills. But I don't look at hair in terms of race; I look at it as textures. There are white girls with really curly, tight hair, too. I usually just call it "straight" hair or "natural" hair. I don't say black or white. It's all hair.
I started working with a makeup artist who opened my eyes to "life outside the chair" — fashion shows, photo shoots. We'd go partying; I'd use her fake ID in the club. The industry is so linked to the streets. Everyone is the cousin of someone's publicist … or an assistant to an A&R exec … or even a groupie. It was a new beginning.
One of my first "famous" clients was Khadejia Bass, who sang the hook to Jay-Z's song, "Ain't No Nigga (Like the One I Got)." I didn't know what she did, so we were just regular together. That groomed me to be natural, warm, and real with these people. My first "work trip" was with Kandi, who's now on Real Housewives, for my first video shoot. My mother was like, "Be careful of them actors." I was like, "All right, Ma."
Then I was working on a Keyshia Cole project … but I didn't know what to charge anybody or how to handle fees or anything related to the computer. Then and now, I only knew hair. In 2007, I finally got an agent. Two months later, I got Rihanna. She had a video for "Unfaithful" and her usual hairstylist couldn't do it. I pulled up with my boyfriend at the time and was like "Oh, she's cute." Doing her hair was a breeze. Easy. She was like, "You're already done?" She took a look, and said, "I like you." I was like, "I like you, too."
Then I went overseas for the first time — to London — for her. They told me exactly what to bring and not bring. When I got there, Ri was like, "Um, I need a relaxer." But they had told me not to bring that! I was so upset. I told her that normally I'd have everything in my kit. That's when our bond started. From that point on, we started communicating, just us. She was getting ready to put out Good Girl Gone Bad. She liked my crazy hair — two inches long, then 20 inches long, then streaked. She said, "I want a new look for my new album … and I want it to come from you."
And that was: the Bob.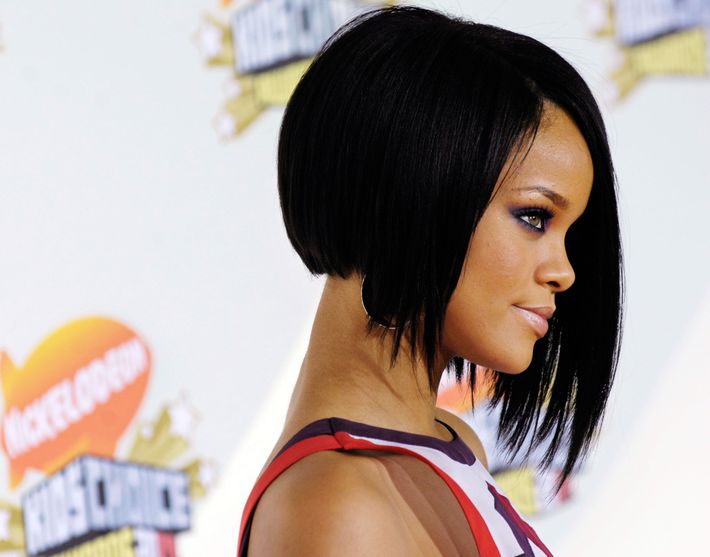 Everybody was frantic. They had someone close to L.A. Reid with us watching every snip. Me and Ri were like, "What the hell is she doing here?" I'm whispering to Ri, "Listen, I'm gonna cut it up to here, for now. Then tomorrow, when we're alone, I'm going to do it for real." The next day: I just went HAM — Hot-Ass Mess — with the scissors. That was the start of not just Rihanna, but Rihanna and her hair.
For a long time, people assumed that a white, gay, L.A. hairstylist was cutting Rihanna's hair. When they saw this face, they were like, "Huh. Okay." There goes that stereotype! Things took off. Even Mary J. called for me. She was like, "I love your work." I was like, "YOU love MY work?" Crazzzzzy.
Being known as the African-American celebrity hairdresser is not annoying. I'm used to it. That's what it is. It's just my job to correct people, so they know that I'm not just the African-American expert; I'm a great hairstylist. With Ri, that trust is unsaid.
That rumor about what she pays me? I'm like, "Really guys, I wish!" You can get $10,000 for one job and $250 for another. That's why I have to really make this career, and salon, stick. I can't type. I don't know how to do shit. I'm not waking up for someone else at 9 a.m. anymore.
I want the salon to be versatile. I want to see a white girl getting a blowout, and a black girl getting a weave. When I was younger, I didn't want to work in an all-white salon, but I dreamed of an atmosphere where it was mixed together.
When I told Ri the salon was finally happening, she was like, "Bitch … it's about time." She's incredibly supportive and generous. She gave me an amazing Céline bag for my birthday. I cried. I'm very grateful. She manages to be very mature for her age, but still in her age. I take a lot of pages from her book.
Ursula Stephen is the Motions Global Ambassador. Her salon, which opens this May, is located at 66 Lafayette Avenue (between Elliot and Portland) in Fort Greene.