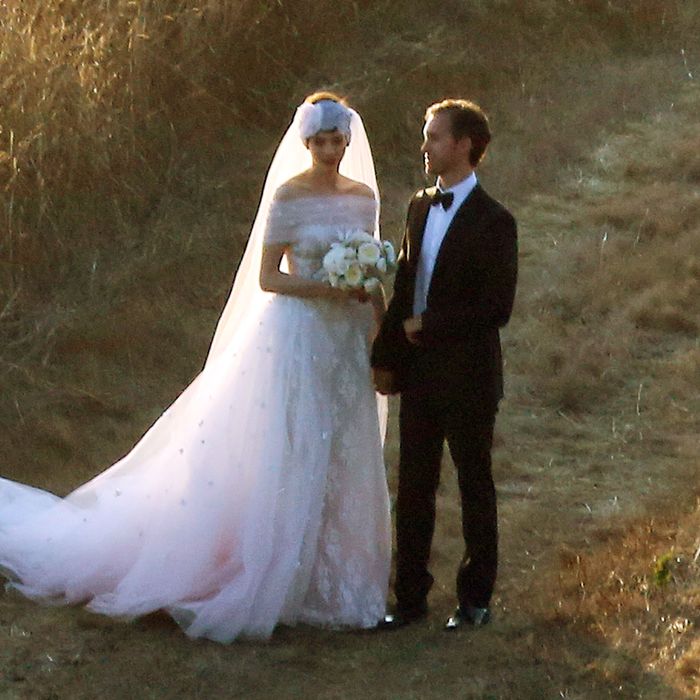 Last December, Anne Hathaway perched on David Letterman's couch to promote Les Mis and air a relatable personal anecdote — about fending off paparazzi at her September wedding on the edge of a Big Sur bluff. "We thought we made it to the day, and then someone took my photo that morning," she told Dave. "I turned to my wedding planner and said, 'Are we going to be okay?'" The planner talked her down: She'd arranged an enormous balloon art installation to secure the airspace over the event, supposedly rendering it non-photographable. Only after the ceremony wrapped did Hathaway learn that the device had "actually made us a big target." As Hathaway and new hubby Adam Shulman posed for their official wedding portraits, a Splash News helicopter sputtered into view.
Hours later, grainy aerial photographs of Shulman and Hathaway splashed across the Internet. Click far enough into the unauthorized photoset, and you'll spot her: A woman clad in head-to-toe black, her blonde waves pulled taut behind her head, her hand clutching a clipboard as she trails Hathaway and Shulman down a hay-colored hill. It was a rare public appearance for Stefanie Cove; when she performs her job perfectly, she disappears from the landscape completely.
Peek into a supermarket tabloid, and you'll catch glimpses of Cove's work. She's gathered locally sourced wildflower-seed party favors for Natalie Portman, helped coordinate Cameron Diaz to recite an e.e. cummings poem at Drew Barrymore's ceremony, and outfitted Reese Witherspoon's affair with country-chic distressed bench seating. But for her biggest clients, the most exclusive detail is now the total absence of press access — save for a few sunny approved details filtered through the couple's designated "close friends." The modern celebrity wedding aims to transcend the trappings of celebrity entirely. The goal is to stage a seemingly authentic moment in a heavily orchestrated affair for a highly publicized star, leaving no clicky trace like the leaked Hathaway photos. All the better if the nuptials disappear totally from the public eye.
And unlike scores of aggressively self-branded "celebrity wedding planners," Cove also stays hidden. Her name rarely appears in print, and it's not even on the building where she works, at the office of Yifat Oren & Associates, where Cove has risen to managing partner by being the trusted on-the-ground liaison for stressed-out stars. (While Oren commands the big picture aspects of her business — including press — like a vet, Cove is known for her hands-on execution, where her utter lack of PR splash helps her blend into the scenery.) Their headquarters is nestled beneath the mansions of the Hollywood Hills, secured by an iron gate, and tucked behind the façade of a luxury duplex.

When I arrive there one morning, Cove offers me a boutique water bottle, presents a box of expertly iced cookies, and speaks as if an infant is sleeping in the next room. Then, Oren tornadoes into the office with a phone glued to her ear, shouts "Stefanie Cove!" through an open window, accidentally knocks over a couple of dining room chairs, and turns down Cove's offer of a cookie — "that's exactly what I need" — before disappearing into the next room.
 
"I never, ever thought I'd live in L.A.," Cove tells me later.
 
Staging celeb weddings may be Cove's life, but nothing else about her reads like the Hollywood version. As a kid, "I dreamed of being in the FBI. I always wanted to be undercover," she says. Instead, she gravitated behind the hotel desks and restaurant bars of Palm Beach's sprawling resorts, earned a hospitality management degree from Syracuse, and immersed herself in the kinds of thankless service jobs that other young adults see as pit stops on the way to real careers. "I was always working to be the highest-selling cocktail server, and weird things like that," she says. "I enjoyed being perfect in those jobs."
 
In 2007, Oren swooped into Aspen to mount a secluded wedding for an L.A. couple, and found Cove running catering operations for the Little Nell, a world-famous, five-star ski resort at the foot of the Rockies. "I saw the same fire inside her that I had. She was so pleasant, thorough, and on top of it," Oren says. Six months later, Cove headed to Hollywood and waded into the celebrity world as Oren's first partner. "I used to have that stereotype of Los Angeles as just a bunch of Hollywood fake women and men who only really care about themselves," she says. Four years after moving, she says her perception has changed. "Somewhat."
 
Cove's outsider ambivalence comes in handy in her line of work. Before Oren and Cove joined forces, Oren was nipping at the upper echelon of the L.A. events business, arranging ceremonies for Hollywood types just approaching, or eclipsing, their peak fame — Jason Bateman's wedding to Amanda Anka, pre–Arrested Development; Costner's nuptials, seven years post–The Postman. Now, the pair is marrying paparazzi targets at the height of their careers. "First you're working for assistants," Oren explains. "Eventually, those assistants become executives."
 
As the company's client list has spiraled upward, the flow of information about their special days has tightened. Costner's 2004 Wild West sleepover wedding was charted to the hour in People; Costner wanted "everything to smell like chocolate, and it did." But in the age of gossip blogs and reality TV, "the sheer rise in the number of celebrities has made it easier to have 'exclusive coverage' of hundreds of 'star' weddings," says Anne Helen Petersen, an academic specializing in star studies. Post-Kardashian, over-the-top details that are sold off to the tabloids — especially about a chocolate-coated affair — now feels gauche. As a Hathaway "pal" told the press after that wedding, "She got what she really wanted: a beautiful, regular wedding with no movie star glitz."
 
"Some people do [still] want the splashier, over-the-top events," Cove says, and "many event producers specialize in this aesthetic." But her clients are looking for something "a little more subtle" that borrows more from "an interior design magazine than a wedding magazine." (She routinely tours clients' homes for style inspiration). Even the "traditional flow of a wedding" seems a little staged these days, she says, as it's become more about "creating a comfortable environment," no first dances or cake cuttings required. As Oren explains her current goal, it's all about creating "careful carelessness."
 
In order to pull off imperfection perfectly, "you have to be very anal," Cove adds. Throughout the process, the duo adopts a buttercream-frosted good cop, bad cop dynamic, says model/actress/lifestyle blogger Molly Sims, who turned to them for her 2011 Napa wedding to producer Scott Stuber. Cove is "really cool and really calm, the kind of person you can confide in with anything, and you know it's not going anywhere," Sims says. Oren "acts like she's running the Israeli army." ("I'm more direct," Oren allows. "I use less words.")
 
Ideally, what they create is an expertly classified affair. So engaged couples are administered secret code names: Sims's wedding was dubbed "Operation Black Swan." Clients and planners don't meet in public. When they visit vendors, they avoid inking the bride's name to any paperwork, and leave a flurry of confidentiality agreements in their wake. On the day of, staff arrives without being briefed on the guests of honor. "Listen, things get out," Sims says. "But it's not because of them." And it's not because the details are subtle: Sims says her wedding weekend — which required converting a Napa drive-in for a retro rehearsal dinner, complete with upscale milkshakes and a light-up sign spelling out the couple's initials — was "beautifully fucked-up."
 
These days, high-profile weddings are so fully wrapped up, Cove won't even discuss how to obscure them from view: "I don't think I can tell you, because then it won't be secret anymore." If all goes to plan, clients don't even know what's going on behind the scenes at their own celebrations. "When you ask someone about their wedding, there's always the one thing that went wrong," she adds. "We don't want that one thing." So while Cove is busy tracking down a fleet of misplaced Porta Potties, mending a bridesmaid's broken dress strap, securing medical attention for an ill family member, or deflecting paparazzi attention, "we try to shield all of our clients so they never know what's happening." Let a client see any sign of panic, and "everything will begin to piss them off," Cove says.

When the wedding's over, Cove's public commentary is short as a tweet ("Congrats to Natalie and Benjamin; it was perfect!"). Even after Hathaway called her out on late-night TV, Cove declines to comment on the event. When it comes to upholding her reputation, it makes more sense to stay silent. "If you're not quiet? If you're not careful?" Cove says, speaking in the most general sense: "That's when the helicopters come."