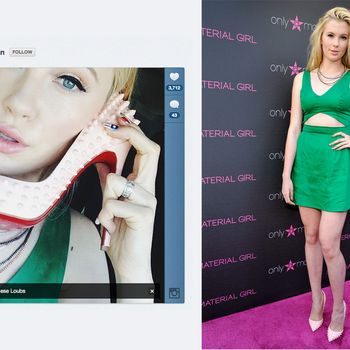 Photo: irelandbbaldwin/Instagram; Getty Images
At Macy's Madonna fashion exhibit last night, Ireland Baldwin wore a trendy midriff peephole and posted an Instagram of a genre which we can only hope quickly becomes another fashion craze: the selfie with expensive footwear as phone. "I can hear the ocean in these Loubs," she wrote.
An up-and-coming model, Baldwin, 18, inherited mom Kim Basinger's looks and dad Alec Badwin's outspokenness on Twitter. There, she holds forth on topics such as animal rights ("KFC needs to get its shit together, start treating their chickens with a lil R E S P E C T, let them go free and become a vegan restaurant"), mating ("Guys with a collection of different nudes/booty shots in their phone and a girlfriend, do you want to keep your girlfriend or nah"), education ("Please punch me in the vagina if I don't [remember] my capitals and the square root of pi in 5 years time"), and fame ("It appalls me that people of my generation have no grace and believe that fame should be handed to them on a silver platter"). It's a pretty glorious genetic mix.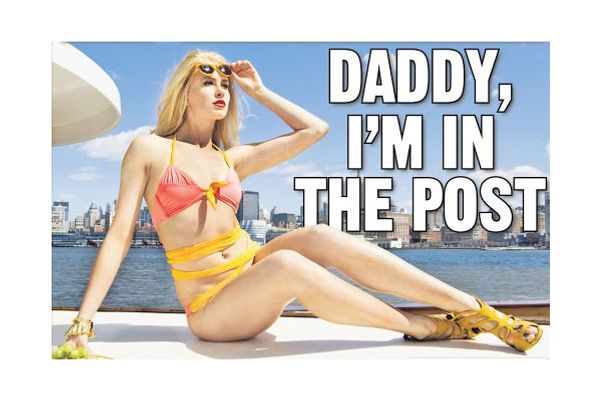 If that's not enough to endear you to Ireland, remember that she made her modeling debut in the New York Post, the sworn enemy of her father, who, in a way, first made her famous by calling her a "thoughtless little pig" in a voice mail that was leaked to TMZ in 2007. It's like Shakespeare, by way of the CW, with the names to match. Ireland's boyfriend is named Slater Trout.