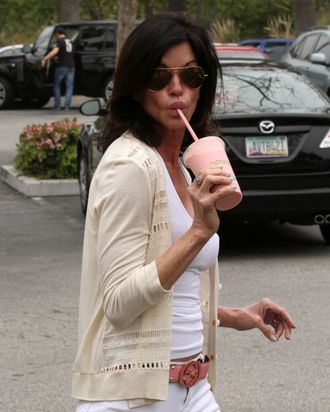 Photo: Diabolik / Splash News
According to the Post, which obtained Janice Dickinson's court documents, the OG supermodel declared bankruptcy and is almost $1 million in debt. Last year, RadarOnline.com reported that Dickinson owed the IRS more than $43,000 and she later faced an eviction lawsuit after failing to pay the $5,900 rent on her West Los Angeles house for three months, both hinting at a possible problem. Now, the Post writes, "her unpaid taxes date back more than a decade, with more than $500,000 due to New York state, California and the IRS." And she has a pair of outstanding $8,000 doctor bills — one for the craftsmanship of Beverly Hills dermatologist Arnold Klein, and the other for services rendered by Dr. Uzzi Reiss of the Beverly Hills Anti-Aging Center.
Dickinson confirmed the news to Radar, saying, "I had some trouble, so yes, it is true … I am upset and taking every step to pay everyone back and I feel terrible about it." Until then, she plans to wander various parking lots sipping iced beverages from straws, as troubled celebs do.