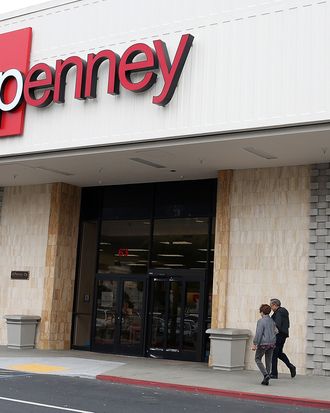 Photo: Justin Sullivan/Getty Images
Last month, the department store debuted hundreds of Joe Fresh shop-in-shops (the merchandise is doing okay, but "not flying off the shelves," said analyst Craig Johnson). And this month, J.C. Penney is reconfiguring its jewelry departments, dubbing them Bijoux Bars — that's français for French Words Convince Americans to Buy Anything Bars.
According to WWD, the Bijoux Bar will arrive at more than 650 J.C. Penney locations on April 28 and feature pieces from sixteen collections — some exclusive to JCP — including 10021 Kara Ross, KJL by Kenneth Jay Lane, Dom by Dominique Cohen, Telio by Doris Panos, Rodrigo-Brave by Rodrigo Otazu, Diego Massimo, and Downtown by Lana Bramlette. Prices range from $30 to $395.
The trade explains:
Penney's hopes The Bijoux Bar could be a significant contributor to revenues and might stimulate more impulse shopping, which is often the case with jewelry. The Bijoux Bar will have a horseshoe configuration with its own fixturing and will be in a prominent spot in fine jewelry, next to Sephora, which is among Penney's most productive shops.
So, what's the plan for May?