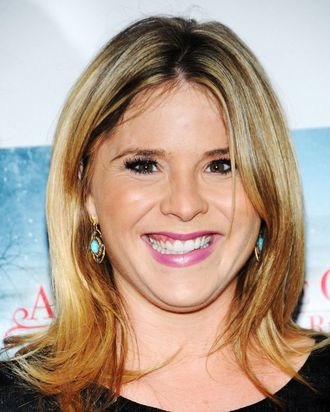 Photo: Desiree Navarro/WireImage
If you thought the first daughter most likely to reenact scenes from First Daughter was tween-awkwardness-survivor Chelsea Clinton, you are wrong. Explaining how her water broke at her baby shower, two weeks early and "in front of all of my friends," Jenna Bush Hager proved that she is the first daughter whose life most closely mimics a rom-com. Us Weekly explains,
"I kind of started sweating, which I guess is a normal thing," she said, explaining that she had been opening gifts at her baby shower when she started to feel uncomfortable, "but then, all of a sudden, in front of all of my friends, my water broke!"
"It was like a romantic comedy," she said with a laugh. Jenna and husband Henry Hager welcomed their first daughter together on Saturday, Apr. 13, in New York City.
Margaret Laura "Mila" Hager is Jenna's first daughter and George W. Bush's first grandchild.