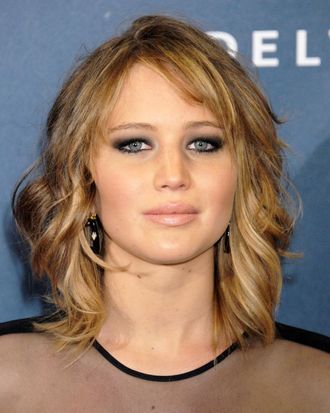 Photo: Gregg DeGuire/Getty Images
Within the last year, J.Law's hair has gone from honey blonde, to Katniss black, to Oscar-winning blonde, back to Katniss black again, and now to caramel blonde. Those poor follicles were probably over the multiple dye jobs, which is one of the more likely reasons Lawrence decided to chop off those damaged ends into what we'll officially call the L.K.K. (Long Karlie Kloss).
This is a slightly more conservative cut choice, mainly because of the long bob's versatility. Unlike the bob or even a pixie, a collar-bone-skimming cut can be thrown up into a ponytail on bad hair days and in between shampoos. For Lawrence, whom we think can't be bothered with the trials and tribulations of super-short hair, this is one cut that will never have an awkward growing-out period. Unfortunately, that probably also means no brutally honest J.Law commentary throughout this hair journey.