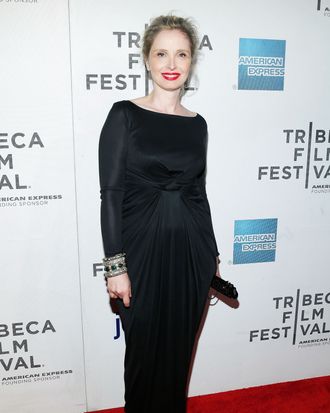 Photo: Jemal Countess/Getty Images
At yesterday evening's Before Midnight premiere during the Tribeca Film Festival, actress and writer Julie Delpy graced the red carpet in a long-sleeved satin gown with a knot at the waist and a wrist stacked with bracelets. A beaded clutch and scarlet lipstick completed her outfit.
Following a flip through our Julie Delpy Scrapbook, we noticed that she's worn long-sleeved black dresses to four of her last five public outings. (I didn't think it was possible to either love or identify with Delpy more after her character Marion's drunken panic attack in 2 Days in Paris — "Wait! I don't have a pulse! I'm dead! I'm dead!" — but it is possible.) Together, let's study Delpy's new uniform.
February 11, 2013: At the Berlinale Film Festival, Delpy picked an above-the-knee sheath that poses the age-old question, "Is this black or navy blue?" On the right, one of her favorite pairs of shoes.