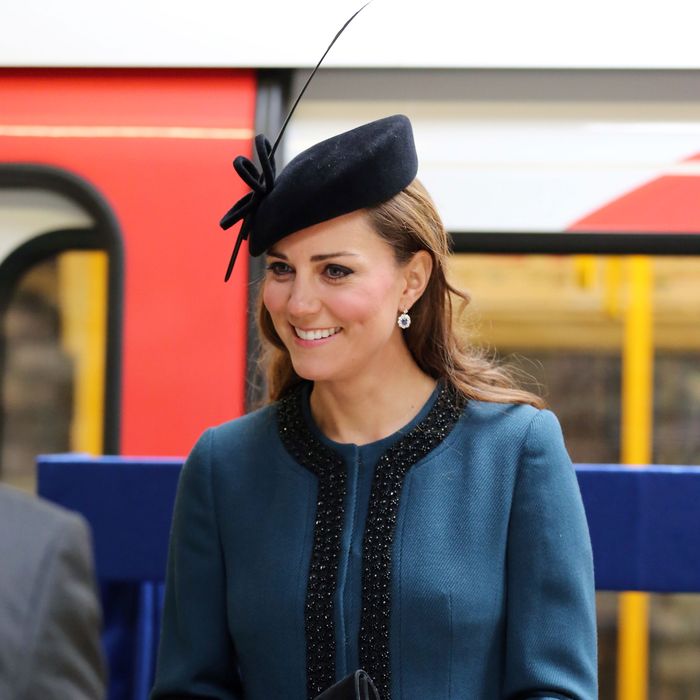 Kate Middleton.
Photo: AFP/Getty Images
Kate Middleton has trademarked her royal title so that it can be used to raise money for charitable purposes, according to the Telegraph. The organization she co-runs with Will and Harry, which as of last June became saddled with the cumbersome title of "Royal Foundation of the Duke and Duchess of Cambridge and Prince Harry," has applied to the Intellectual Property Office to register for a number of "goods and services," including T-shirts. A royal spokesperson tells the Telegraph:
Since the name change of the foundation last year, we have been registering our new name and logo in different territories around the world … As part of that process, we have to choose any categories under which we might conceivably operate in the future. This also protects the foundation against other people using its name illegally. We included clothing in case we choose, for example, to make T-shirts in years to come, for marathon runners, etc.
Nice try with the vague "examples," spokesperson! Now we can freely assume that Kate will run a marathon after she gives birth, which is something she totally would do, isn't it?
Meanwhile, it's surprising that she hasn't already trademarked her name, particularly since there's an entire economy that revolves around her fashion choices. Apparently donations to the foundation have skyrocketed since the royal wedding was announced, so she's obviously good for business, both non- and for-profit.
Middleton Trademarks Name, Hints at Marathon
Things you buy through our links may earn Vox Media a commission