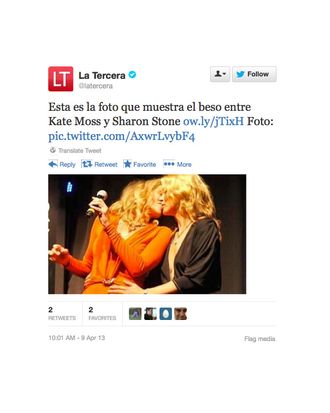 Photo: La Tercera/Twitter.com
As part of the third annual amfAR Inspiration Gala in Sao Paulo, Brazil, last Friday, cousin Kate auctioned off a kiss — and the model and her co-host Sharon Stone gave an impromptu preview of the lot to the audience, captured by Chilean newspaper La Tercera's el Twittero. The smooch and a magnum of Moët & Chandon Champagne autographed by Moss and Stone went for nearly $57,000.
Did you know Kate's a regular do-gooder? Here are some of her recent charitable acts:
1. March 2013: Kate read a passage from Fifty Shades of Grey on Britain's Radio 1 (requiring her to speak) for the U.K.'s Red Nose Day.
2. June 2009: She performed a cover of "Summertime" to raise $77,000 for the Hoping Foundation. The finale included Kate writhing on the floor.
3. May 2012: She donated a topless portrait by Sølve Sundsbø to a charity auction for the National Society for the Prevention of Cruelty to Children.
4. July 2010: She played the tambourine, again for the Hoping Foundation. She played it so hard the tambourine broke into two pieces.
5. March 2011: She became drunk and seduced a teddy bear for Britain's Comic Relief.
6. May 2012: At a Marie Curie Cancer Care fund-raiser in London, she did not break David Bailey's gazillion-dollar camera and tried (without success) to get a painting to talk to her.