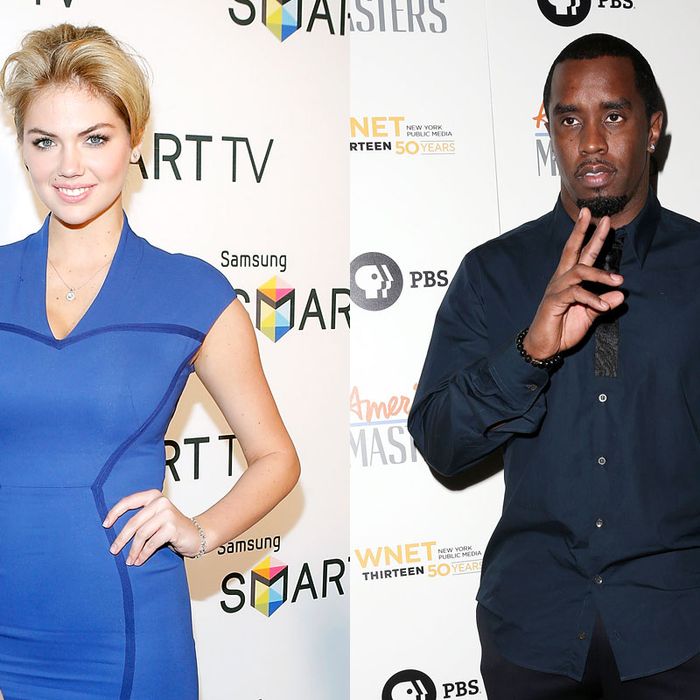 Upton and Diddy.
Photo: Getty Images
Kate Upton and Sean "Diddy" Combs are maybe dating, according to the Daily News. One "eyewitness" saw them "sucking face" in a VIP room at Club LIV in Miami Beach on March 24, and last Thursday they were spotted sharing dinner at the Bowery Hotel, which means it's progressed from vodka-fueled makeout to actual courtship — not always a smooth course, so congrats to them?
Upton broke up with Detroit Tigers pitcher Justin Verlander sometime before Valentine's Day, and last Friday she tweeted a picture of herself with a real tiger cub, shot for Harper's Bazaar, which she captioned, "Cuddling with my favorite tiger :)," burn. Diddy's romantic availability is more questionable, as he was seen house-hunting in January with singer Cassie, his girlfriend of several years. But most importantly, this rumor means great things for Upton's ascent to Vogue stardom, as A-Dubs and Diddy go way back. And maybe Diddy is the real reason Upton wouldn't go to prom with that kid! But probably not.
UPDATE: Kate Upton denied the rumor on Twitter, responding to the Cut, "Really??? Not at all true." Diddy took a stab at damage control as well:
Maybe we should double-check with Verlander's grandpa, who knows all.