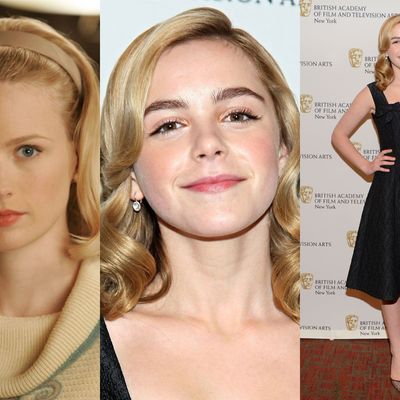 Betty and Kiernan.
Photo: AMC, Getty Images, Getty Images
Several members of the Mad Men cast went to a BAFTA party in their honor last night, and little Kiernan Shipka (also known as the not-so-little-anymore Sally Draper) looked so stunning it was almost unfair, considering she's 13. She wore a black, knee-length Dolce & Gabbana dress and delicate, pointy-toed heels, her hair set in soft blonde waves. Although her outfit could've easily been worn by a red-carpet star three or four times her age, it still looked appropriate on her, thanks to the modest hem and neckline. The bow details at the straps were a nice girlish touch, too.
But what was particularly striking about Shipka's look is how much she resembled a younger Betty Draper — back when she was still a Draper, and blonde, and had never even met Pauline Francis (or, um, Bugles). Chalk this up to ingenious casting on Matthew Weiner's part, perhaps, or maybe it's life imitating TV. In any case, it's already clear Shipka is one of those teens who will never hit an awkward phase. She looks great.