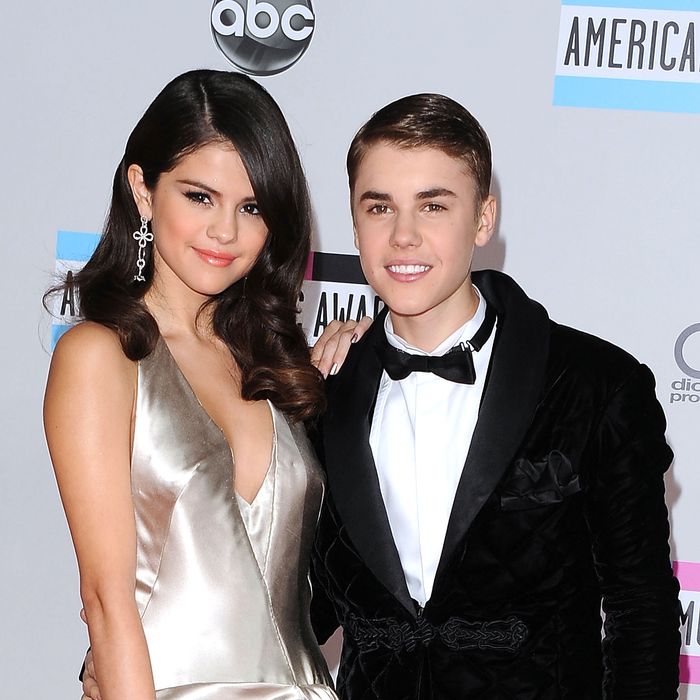 Photo: Jason Merritt/Getty Images
On this objectively insane day, while a deranged terror suspect turns an entire metropolis into a terrifyingly lethal real-life version of Grand Theft Auto — we turn, as we always do, to the mindless escapism of celebrities for comfort. (We'll always have celebrities.) And today, mindless celebrities turn to one another for comfort. Today is the day celebrities embraced their exes. 
Selena Gomez has landed in Oslo, TMZ reports, "on a mission to hook up with Justin Bieber" on the Norwegian leg of her famous ex-boyfriend's world tour. Meanwhile, in what will surely be a less joyous reunion, Kim Kardashian is scheduled to faced down scorched-earth ex-husband Kris Humphries in court today. She is supposedly "excited" to take care of "unfinished business" so she can "truly move on."
In other surprise reunion news, Nikki Blonsky told Life & Style  she's been chilling with ex-co-star Amanda Bynes, whom she met in 2007's Hairspray. Bynes is "just living her life and doing what she wants to do and I totally support her," Blonsky says. Of Bynes's recent erratic behavior: "I don't think that's a breakdown, but a breakthrough." So why is everyone so freaked out by Bynes's vagina murder and face-twerking and doppelganger theories? "I think it was more like an episode of events that maybe people are finding her different for, because she has been so cookie-cutter and so perfect over the years." Is the band really back together? Like Bynes, Blonsky has had some career stutters in recent years, getting a cosmetology license to "help pay bills" while opining about her acting "dreams." Perhaps each formerly top-billing starlet is what the other needs for support.