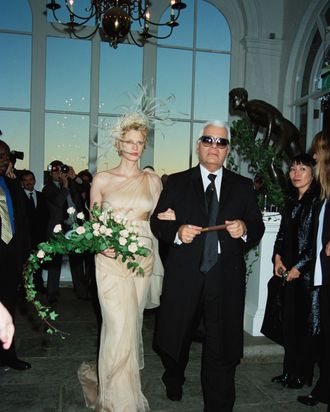 Kristen McMenamy and Karl Lagerfeld at the model's wedding.
Photo: Dave Benett/Getty Images
Kristen McMenamy is divorcing her husband of seventeen years, photographer Miles Aldridge, after he confessed to cheating on her. The couple's famously splashy wedding, in which Naomi Campbell was a bridesmaid and Karl Lagerfeld walked the bride down the aisle, was described in the Times in November 1997:
The invitation said 4 o'clock, but at five minutes past a latecomer rushed in to find only the groom, four other guests, a gaggle of photographers and 60 gilt chairs arranged in rows, with names on the seats: Boy George, David Bailey, Rupert Everett. Already, this was shaping up to be more like a fashion show than a wedding … 
True to fashion protocol, the rest of the guests straggled in over the course of the next hour, greeted at the door by the cameras. Manolo Blahnik, straight from root-canal surgery, worried that his face would look puffy in pictures. Vivienne Westwood arrived with her husband, Andreas, who was wearing a kilt, knee socks and ghillies with a two-inch heel … Finally, at 5:30, the bride appeared, preceded down the aisle by four flower girls (one, her daughter, Lily) and two bridesmaids: Saffron Aldridge (the groom's sister) and Naomi Campbell — both models and both wearing … black. McMenamy was in a ravishing one-shoulder draped chiffon dress Lagerfeld had designed for her (in a fabric dyed to match her pale skin) and a feather headdress by Philip Treacy.
Even Karl can't fix everything: According to the divorce petition, which was released yesterday, McMenamy described Aldridge as "intolerable" to live with. She elaborated to the Daily Mail's Richard Kay:
Obviously it's a relief to get the [decree] nisi but it won't be over properly until the summer. We have as good a relationship as you can expect after everything that's happened.
The couple has two children as well as one child each from previous relationships. McMenamy's daughter Lily, who walked topless in Marc Jacobs's fall 2013 fashion show to much fanfare, is not related to Aldridge, although he is a half-sibling of Victoria's Secret model Lily Aldridge and her younger sister Ruby. A tangled fashion web, indeed! Legend has it that the couple first met in the back of Karl Lagerfeld's car.