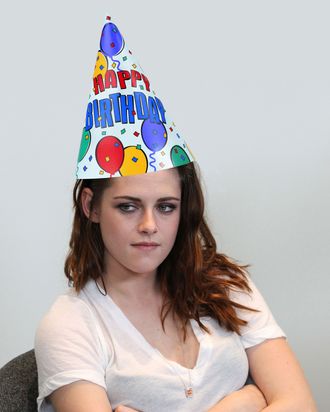 Photo: Corbis; Jonathan Leibson/WireImage
The Twilight actress, possibly with a new Converse logo tattoo on her ankle, celebrated her birthday on Tuesday with a Hanson D.J. set and a pricey writing implement, according to the tabloids — a combination so dispirited and confusing, it couldn't have been made up. According to Perez Hilton, Kristen and Robert Pattinson (who are "%100 BACK ON") stopped by a Hanson album release party at Jane's House Lounge in L.A. With middle bro Taylor on the turntables, "Rob came in and sat down alone for about five minutes. And then Kristen came in with a security guard and sat down next to Rob," a source said. "They were all hanging out in front of the other guests and looked like they were having a great time together." Ba du bop, ba duba dop.
The Daily Star, another reliable outlet, reports R.Patz bought the 23-year-old a $46,000 limited edition white gold Tibaldi Bentley Crewe fountain pen. "Kristen has always collected pens, and has a variety of stylish ones," an informant remarked. "He had her name specially engraved on it with the year and wording: 'From R'. There are only 40 of these pens in the world, so it's a real collector's item." The Star adds Rob also gifted K.Stew "a stunning antique bracelet and asked her to officially move back in with him." Yeah … you can't believe everything you read.