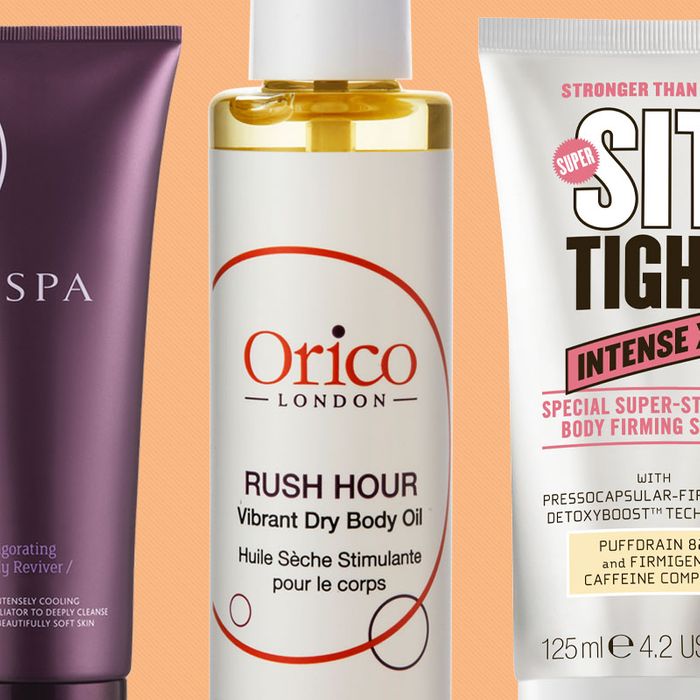 Each weekend, I test out a few of the many beauty products to hit my desk so you can decide if you want them too.
ESPA Invigorating Body Reviver ($47): This exfoliator includes all the elements of an island getaway. The scrubby part is made from Bora Bora sand; the skin-softening elements include coconut extract; and the lime scent is quintessentially tropical. Scrub your body with this a few times a week or whenever you need to have your brief getaway moment. Or, use it if you're actually enjoying warmer weather and getting ready to present your limbs to the world.
Orico "Rush Hour" Vibrant Dry Body Oil ($40):  Formulated with rose hip and Baobab-tree oil, this moisturizing organic blend absorbs into skin within seconds. It won't leave behind a greasy residue, but you will need to use more product than you might expect, since it's not super spreadable. The subtle sheen makes skin look healthy and glowy in a radiant, not overly shimmery kind of way.

Soap & Glory Sit Tight Super Intense XS ($38): The newest thigh- and bum-firming cream from Soap & Glory includes some cartoonishly named (albeit patented) ingredients like "Puffdrain 82," "Firmigen Caffeine Complex," and "Detoxyboost Technology." They're all meant to be rubbed, rather aggressively, with the tube's metal roller balls — which causes lymphatic drainage and stimulates circulation — to help firm up the skin while you do nothing but sit still. (Note: this gel does not promise to eliminate cellulite or cause weight loss.) It's recommended to apply the menthol-scented gel on lax skin areas every day for 28 days to get significant results; here's what I noticed in just one weekend:
• Your legs and bum will turn red from the massaging effect but that will disappear after a short period (wear pants post-treatment, or deal with the fact that it looks a like three-toed, clawless kitten pawed at the backs of your legs) 
• The slightly sticky gel needs a few minutes to dry, so this isn't meant for those who are in a rush each morning (skinny jeans will stick to your ass … if you even get them up past your sticky thighs.) 
• Your fiancé will stare at you and refuse to believe that "puffdrain 82" is an actual thing.