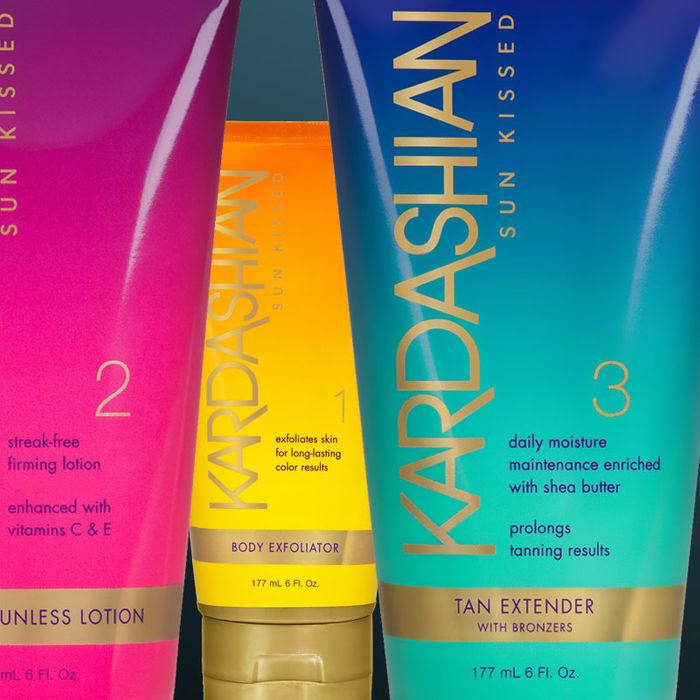 Each weekend, I test out a few of the many beauty products to hit my desk so you can decide if you want them, too.
Body Exfoliator ($12.99): Volcanic ash, walnut shell powder, and crushed stones of an unknown source are what exfoliate your skin in this scrub. Unlike other sugar or salt scrubs, this one is soft on the skin and not too abrasive or grainy. I slathered it all over damp skin, then went for an extra sloughing on elbows, knees, and ankles. After, I rubbed the product in further with my Korean exfoliating mitt. Afterward, my skin was smooth and ready for tanning, but my shower was full of an overwhelming fruity-floral scent.
Instant Sunless Lotion ($19.99): Do not be afraid. This lotion is tinted a peanut-buttery, latte hue, but it won't stain your skin (or your clothes). It easily absorbs into skin and doesn't smell like the chemical tanning agent, DHA — likely because it's masked by the same, overpowering scent as the Exfoliator. As far as the tanning goes, your skin will turn a surprisingly natural-looking bronze. In the name of proficient product testing, I applied this to half of my body so I could compare to a paler half: The faux-tan half looked Hawaii fresh with no Lohan-orange tinge. I wasn't even careful with my application either, slapping it on like I would with a regular body moisturizer; somehow, no part of my body came out streaky. Not even my hands or ankles.
Instant Sunless Spray ($19.99): For the second day, I switched to the spray. This formula is a bit trickier to use because, like spray sunscreens, it has a tendency to get kind of everywhere (towels, tiles). You'll want to keep the nozzle close to the body and then rub it into your skin rather quickly. After two applications, I started to much prefer the Kardashian-ed half of my body. My skin could probably take one more self-tan application but that's it: I'm not prepared to go full Kardashian. Yet.
Tan Extender with Bronzers ($12.99): Since I used this along with the self-tanners, it's tough to tell whether or not this product is prolonging the tan since these are technically meant to be used once you've finished with the self-tanning lotions.