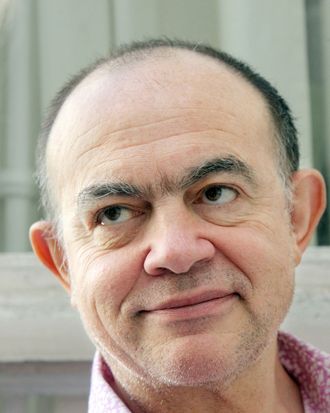 Photo: Pierre Verdy/AFP/Getty Images
Following yesterday's announcement that Christian Lacroix would produce the first garments for the house since it shuttered in 1954 — creating a fifteen-piece collection to debut in July — Style.com wondered if the designer is intimidated by the project. "This will perhaps sound pretentious, but this seems natural to me, almost obvious — let's say logical," he told the site, though, "I'll face [Elsa's] glance on a portrait and try to guess what she thinks … and I'll tell you yes, she's goddamned intimidating!"
Lacroix said that walking into 21 Place Vendôme, Schiaparelli's headquarters since the mid-thirties and the venue for his upcoming presentation:
[Y]ou feel something alive, far from nostalgia. Everything screams, "I'm still here, alive." I think this is good timing and momentum [as long as] we don't copy her but try to extract the quintessence of her style. Her heritage is too often reduced and simplified to only the crazy, surrealistic, and caricatural side of her clothes. [People] ignore how close to the practical, modern, pure aspect of a wardrobe she was, especially during the war. We have to epitomize this image of her.
He confirmed his collection is a one-off and speculated, "next year's homage might be a ballet, a novel, or a movie." Or a lesson in lobster fishing. Nobody knows!