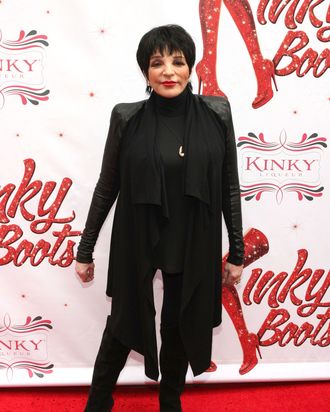 Photo: Bennett Raglin/Getty Images
When the Cut saw Liza Minnelli walk the red carpet at last night's opening of Kinky Boots, we were reminded of Marc Jacobs's fall 2013 show, with its so-very-Liza black tousled mullets, heavily lined eyes, and Cabaret-ready hot pants. Liza told us she hadn't seen it, which seemed a tragedy since we suspect she inspired it, so we pulled up this photo on our phone.
"Oh my God!" Liza Minnelli shouted fabulously. "How wonderful! I'm complimented and I love him. He's so talented!" Do you see yourself in that, we wondered? "Yes!" she said, as Michael Feinstein started to croon, "If You Could See Yourself Through My Eyes" beside her.
Moments later, Fern Mallis appeared in a glittering sweater and little low-heeled Manolo boots, clearly jazzed for the show. "I have kinky taste in some things," she said. "Like, decorative things and accessories." Any that she feels fetish-y about, we wondered? "I have so many that it's hard to separate them, because that's my thing — the accessories. I'm fetish-y about my Solange Azagury skull." She pulled a little white skull on a long chain from inside her sweater. "The mouth opens."