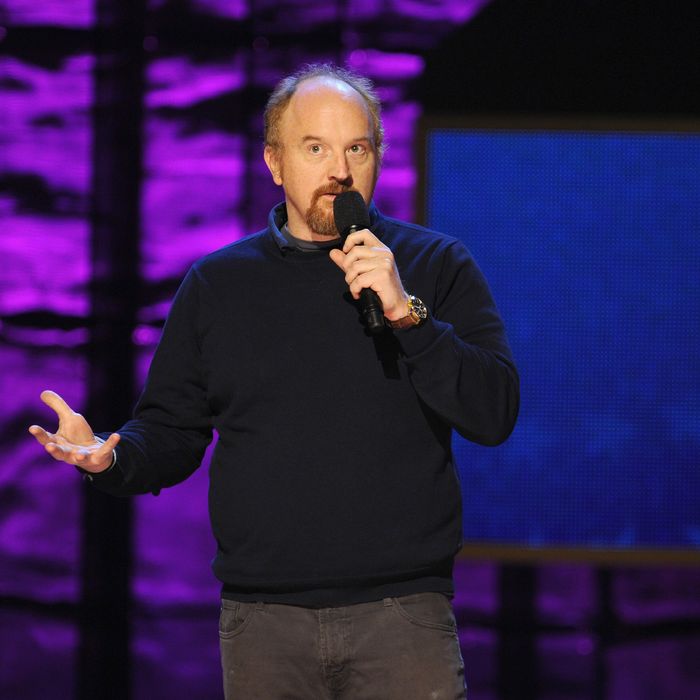 Photo: Dimitrios Kambouris/Getty Images
One of the worst parts of feminism is having to tell people — men, usually — that their jokes aren't funny. For one, if someone is making a sexist joke, he's probably not the type to listen to a shrill woman stomp all over his precious First Amendment. (And he really doesn't like to be reminded that's not how the First Amendment works.) Then there's the inevitable retort: Feminists can't take a joke, women aren't funny — a surprisingly effective argument for one so demonstrably false. I find myself swearing that feminists could totally laugh at a rape joke, if it were a funny rape joke. I just can't explain what that would sound like because, ugh, I guess they're right, I'm not funny.
That's why Louis C.K.'s response to the controversy surrounding his colleague Daniel Tosh's unfunny rape joke last year was so heartening. Amid all the moaning about political correctness and gotcha journalism, Louis C.K. appeared to be listening. He said the women responding to Tosh taught him something about male privilege. "I've read some blogs during this whole thing that have made me enlightened to things I didn't know," he told Jon Stewart shortly after the so-called Rapeocalypse. "The woman said how rape is something that polices women's lives. They have a narrow corridor. They can't go out late, they can't go to certain neighborhoods, they can't get a certain way, because they might get … that's part of me now that wasn't before."
But way more heartening is how this new part of him worked its way into a bit (above, via Slate). It confirms that, even with a heightened feminist consciousness, male comedians can still be funny, even about rape.