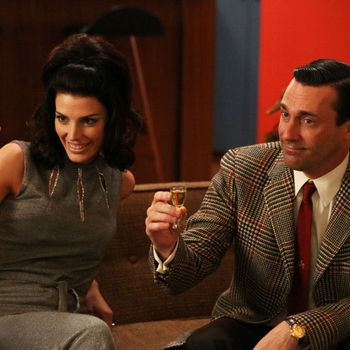 Megan and Don Draper.
Photo: Michael Yarish/AMC
Season six of Mad Men is nigh! Today brought new images from the premiere episode, which shows teenage Sally, sparkly Megan, and the same Joan we known and love. Best of all, the season opens with the Drapers on a tropical vacation, so we can expect sun hats and funny shirts. Click through our slideshow for a speculative photo analysis — prepare yourself for plaids, orange mohair, and more of Pete Campbell's new sideburns.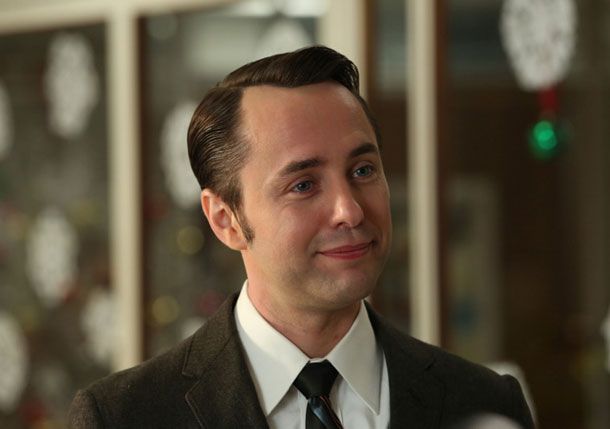 Pete Campbell (Vincent Kartheiser)
Pete's sideburns: perhaps less promising than we originally thought, but his temples! They are agleam.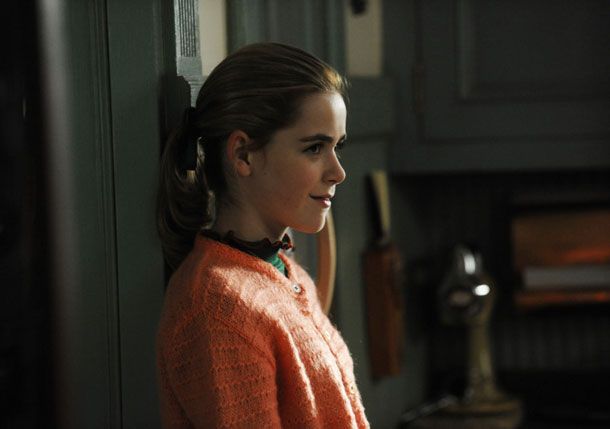 Sally Draper (Kiernan Shipka)
Teen Sally has a penchant for orange mohair and ruffle-trimmed mock turtlenecks. Hopefully both Betty and Megan tell her she should never touch her eyebrows, ever, because they are perfect just the way they are.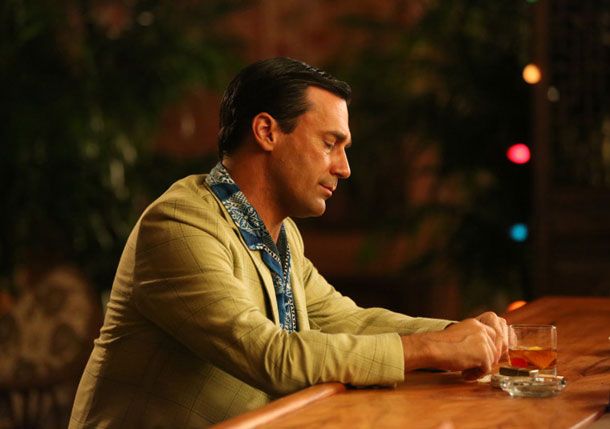 Don Draper (Jon Hamm)
Yes, this is probably the closest thing to a Hawaiian shirt that Don will ever wear! And that's a good thing. Obviously he's not drinking anything tropical that involves an umbrella, either.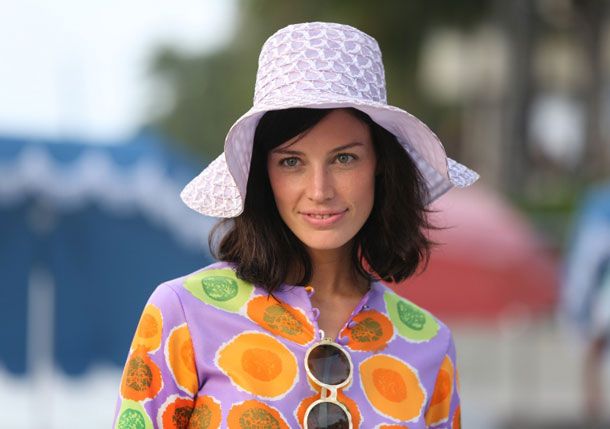 Megan Draper (Jessica Pare)
Megan, on the other hand, is the human embodiment of a cocktail umbrella.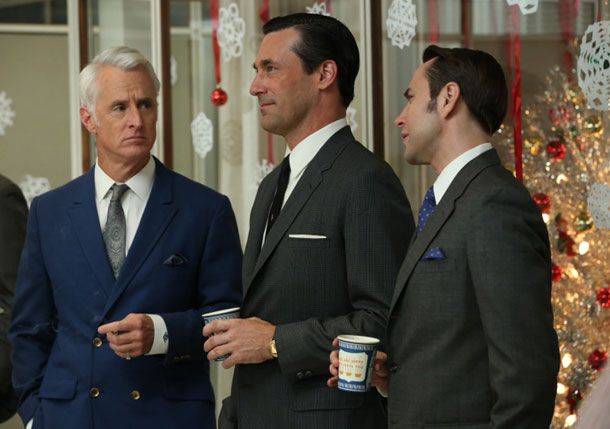 Roger Sterling (John Slattery), Don Draper (Jon Hamm), and Pete Campbell (Vincent Kartheiser)
The men in their natural habitat, the company's boozy Christmas party. Please note Roger's double-breasted suit (yikes) and Pete's matching polka-dotted tie and pocket square (way too much, even for him).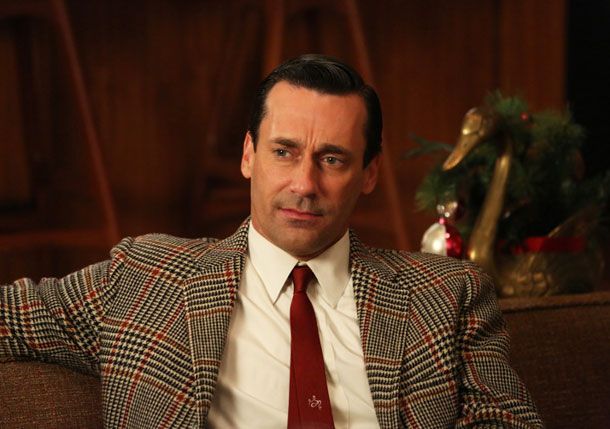 Don Draper (Jon Hamm)
Don appears to be getting a little more fancy-free with his outfits this season. Still, he probably won't stray too far from tastefully muted plaids and the occasional insignia on his tie.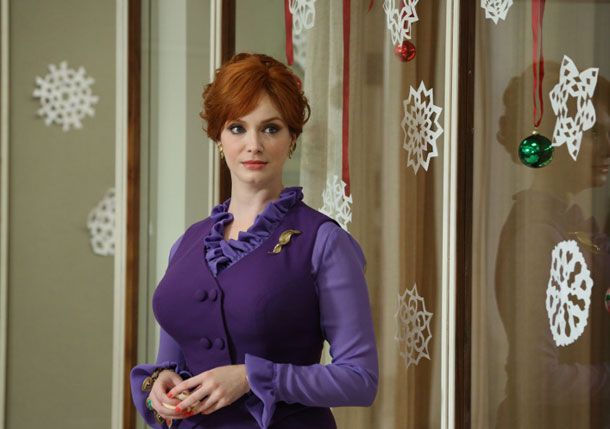 Joan Harris (Christina Hendricks)
Ah, Joan. Your jewel-tones never waver, and neither should you.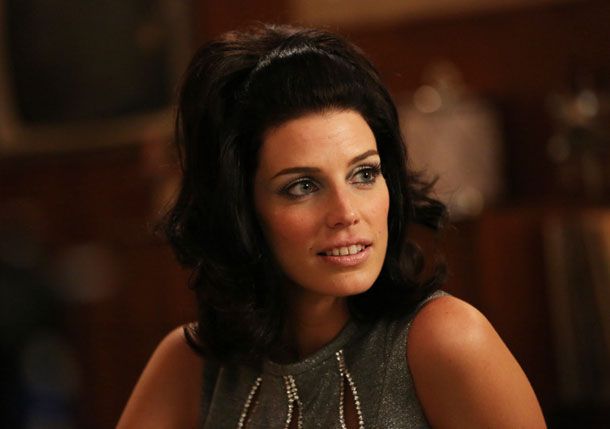 Megan Draper (Jessica Pare)
Meanwhile, Megan has taken up sparkly cut-outs and bouffant-style hairdos. As predicted, she's picking up where Jane Sterling left off, and that's a beautiful thing.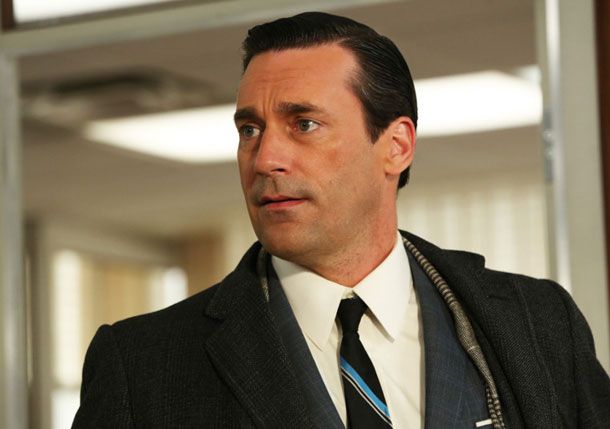 Don Draper (Jon Hamm)
Leave it to Don to be the consummate leader of the perfect suit jacket, scarf, and overcoat combination.