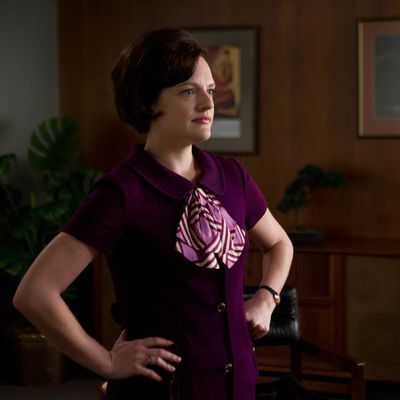 Peggy in Mad Men.
Photo: Ron Jaffe/AMC
All the female characters on last night's episode of Mad Men had to suffer the "consequences" of their sexuality in some form or another. Joan was forced to confront the smarmy Herb at her office, while Peggy endured female hygiene jokes, Megan grappled with a miscarriage, and poor Brenda was beaten by her husband after she cheated on him. The only characters who manage to avoid the repercussions of sex are Don and Sylvia, but it's only a matter of time. The costumes were particularly symbolic in this episode; click ahead to see Joan's magnificent red neckerchief, Peggy's pussy bow, and Trudy's magnificent season-six debut.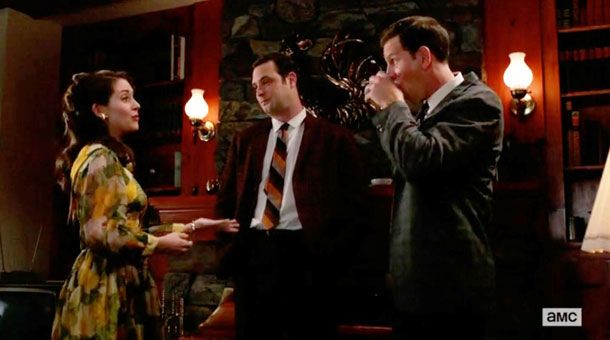 Trudy's entertaining outfit
Mrs. Pete Campbell has always been one for bright, jewel-toned florals, and tonight's puffy number is no exception. Although — or perhaps because — her dress leaves much to the imagination, her horny neighbor is eager to see her without it. Pete, on the other hand, can barely even look at her.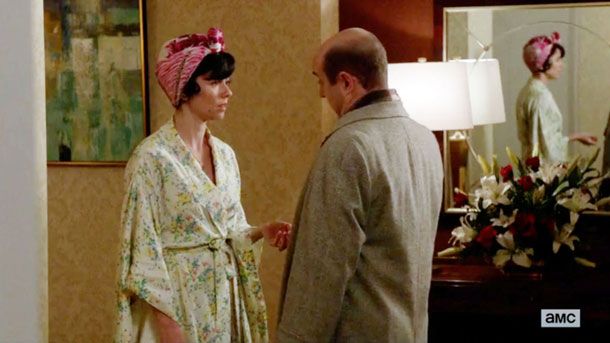 Sylvia's dressing gown
Sylvia's colorful house robe reveals just a bit of lace underneath, and Don takes the bait. But aren't you curious what's going on beneath that head-scarf? Curlers, perhaps? So much mystery here.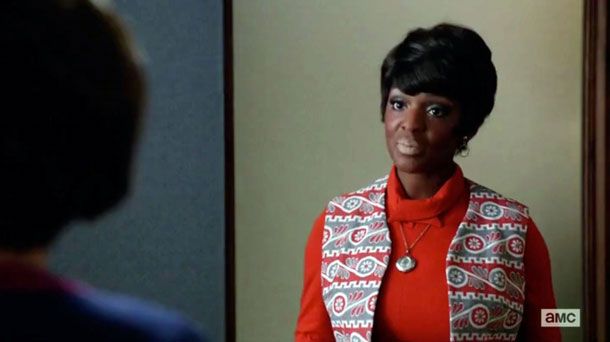 Phyllis's bossy red outfit
Phyllis, Peggy's sassy secretary, appears to be the only person at the office Peggy feels comfortable confiding in. And with an outfit like that, you'd listen to her, too.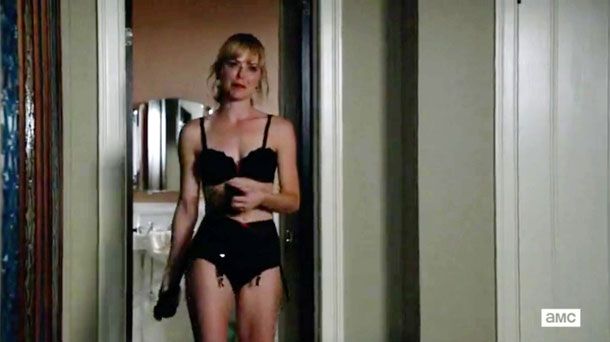 Brenda's black lingerie
Don't lie: Doesn't she look exactly like Kate Upton in this scene?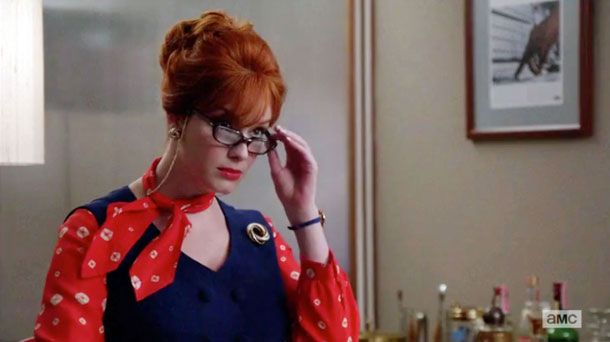 Joan's scarlet letters
Joan confronts Herb with a sharp zinger about his anatomy, but still, she can't escape his presence. Isn't it symbolic that she wears a bright red neckerchief and a circular pin on her chest, like a scarlet letter?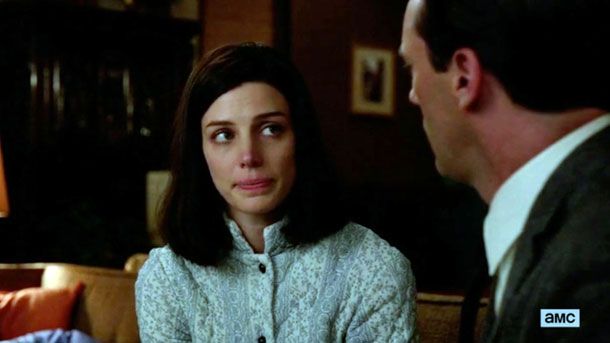 Megan's robe
A stark contrast to Silvia's come-hither robe, Megan's is pale and quilted, like she's insulating herself from Don. It's also quite similar to the peignoirs Betty wears for her midnight snacks — a depressing sign of Megan's potential future.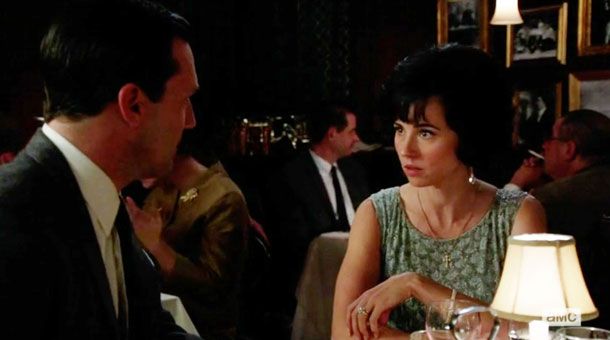 Sylvia's beaded dress
The dress that Don promised to unzip, turning Sylvia to putty in his hands. It's also embroidered with delicate beads, symbolic of the fragile, tenuous situation they're in.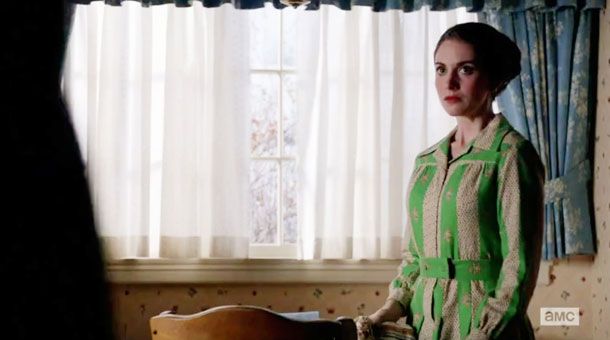 Trudy's striped green dress
Those thick, bold stripes mean business, and for once she's not in ditzy florals. Also of note: She's wearing green and white, the color of money, which shows what's at stake here. At the end of the day, Trudy's in control.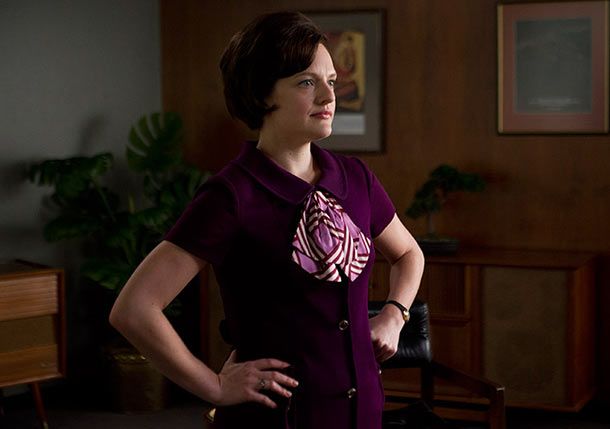 Peggy's pink and purple bow
The pussy bow is well-trodden territory for Peggy, but this season she updates it with richer colors (purple!) and a more feminine vibe (pink plaid!). It's no coincidence that she wears this when she's trying to become more likable to her colleagues, who are apparently making jokes about her vagina behind her back.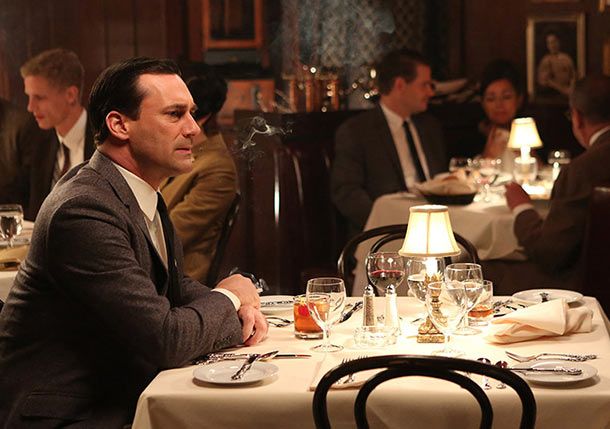 Don's seduction suit
He'll never change, will he?