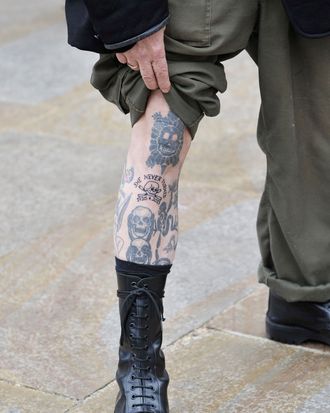 Photo: Gareth Cattermole/Getty Images
This morning, Margaret Thatcher left Downing Street for the last time, her flag-draped coffin in procession through London and past Westminster Abbey, Parliament, and the residence she lived in for the eleven years she served as British prime minister. Her funeral service took place at St. Paul's Cathedral.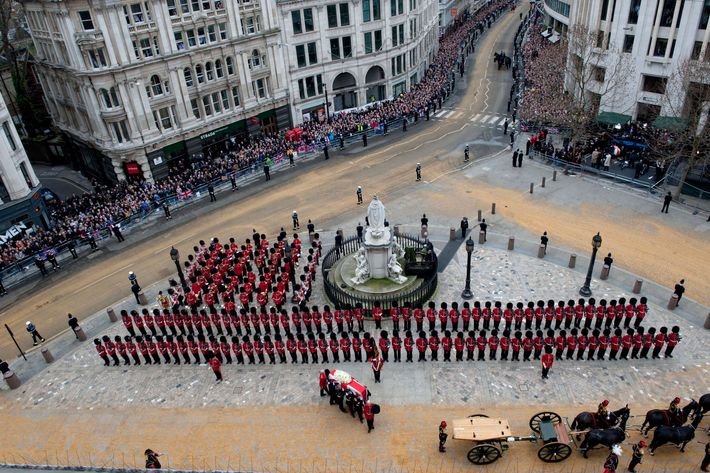 Onlookers crowded the area. Above, a Thatcher fan displays a tattoo he got to memorialize her. Below, a protester waving a sign marked "Tory Scum" at the divisive leader's coffin.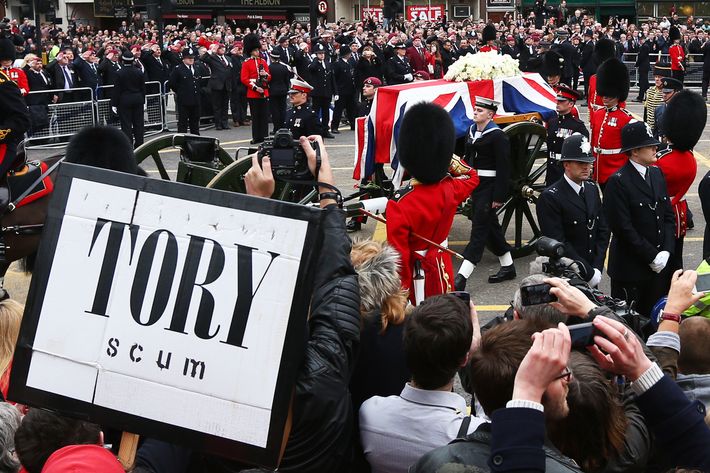 The Bishop of London acknowledged Thatcher's divisiveness, but avoided engaging it: "After the storm of a life led in the heat of political controversy, there is a great calm. The storm of conflicting opinions centres on the Mrs Thatcher, who became a symbolic figure—even an ism. But the funeral of Margaret Hilda Thatcher is not the time for debate on her legacy."
Thatcher wanted her funeral to be about her humanity, the Bishop said: "This, at Lady Thatcher's personal request, is a funeral service, not a memorial service with the customary eulogies." He said, "Lying here, she is one of us, subject to the common destiny of all human being. … At such a time, the parson should not aspire to the judgments which are proper to the politician; instead this is a place for ordinary human compassion of the kind that is reconciling."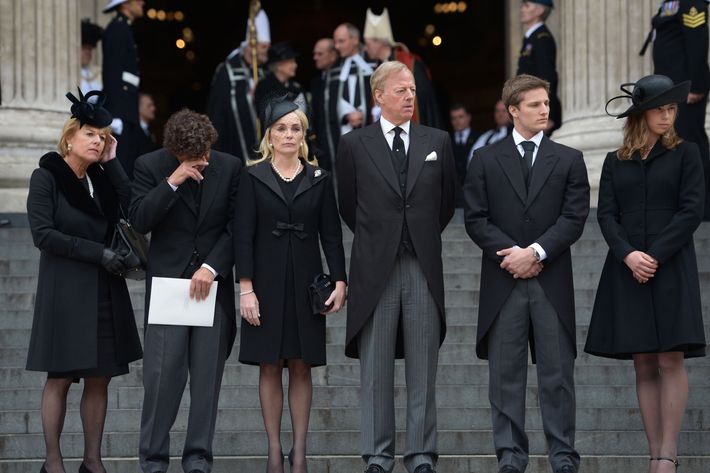 2,300 people attended the funeral. Above: Daughter Carol Thatcher, Carol's partner Marco Grass, daughter-in-law Sarah Thatcher, son Mark Thatcher, grandson Michael Thatcher, and granddaughter Amanda Thatcher. For the ceremoy, 19-year-old Amanda and Prime Minister David Cameron read passages from the Bible.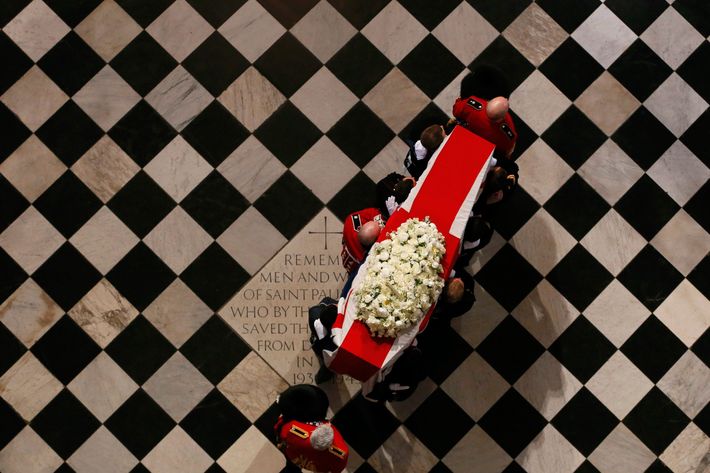 Other guests included Queen Elizabeth, three former British prime ministers, Israeli Prime Minister Benjamin Netanyahu, and dignitaries representing 170 different countries.
* This post has been updated; Margaret Thatcher's son's name is Mark, not Matthew.