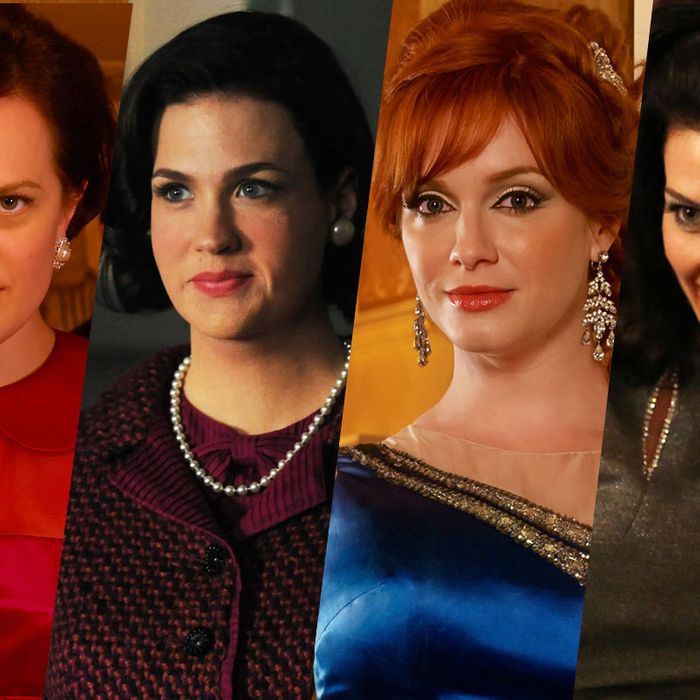 Photo: Frank Ockenfels/AMC, Michael Yarish/AMC
How perfect did Megan Draper look on that Waikiki beach in Mad Men's season premiere? With her short, swingy hair, that purple bikini, and what appeared to be very little makeup, she looked every bit the sixties beach babe we'd want to be. But let's get real: That "no-makeup" face was created by the show's head makeup artist, Lana Horochowski. Recently, she caught up with the Cut to talk about the lip color Megan's trying for the beach, how Peggy sometimes looks a bit messy, and more throwback tips and tricks from the set of Mad Men.
Does Matthew Weiner ever have specific requests for certain beauty looks?
We are such a collaborative team at Mad Men. I sit together with Matthew, the costume designer, and Jamie (hair), and we map out the looks every season. We test everything — especially for new characters. We test every look and every scene, and Matthew approves everything.
What does eyeliner say about a character?
The characters who wear a heavy eyeliner look are the ones who have more time to get ready in the morning. They take more pride in their appearance. Peggy's eyeliner is always a little messy or rushed because she's so focused on work. You'll see it's kind of crooked.
Which eyeliner products and technique delivers the most authentic look?
I use liquid eyeliner — anything that has a liquid effect because it's the right texture for the period of time. I stay away from pencil. I use the Nars Eyeliner Stylos; they are perfect for this look. I actually start from the outer corner of the eye because it helps me get the right lift and shape. Then I drag the line all the way into the inside corner.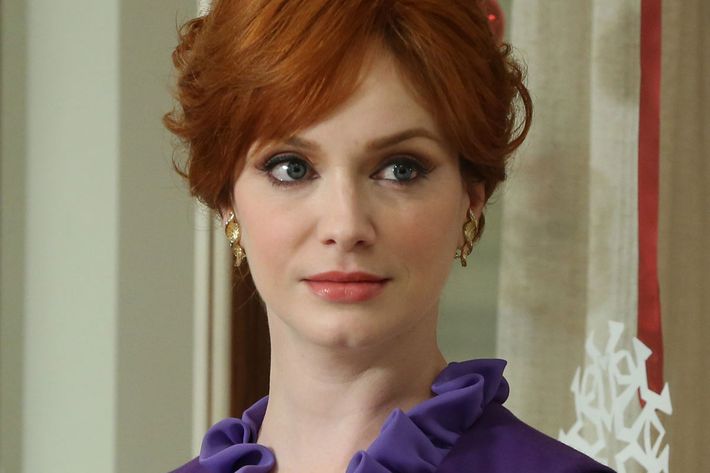 How is Joan's skin so creamy looking? What's the secret there?
Christina has great skin! She is so flawless — the perfect peaches and cream complexion. Some of us need to use a bit more makeup, and she is just one of those lucky girls who has the most amazing skin.
Are there certain makeup looks that the actresses love or hate?
Everyone loves to be made up! They hate the no-makeup makeup look. The girls love a full face, especially when it's a new look — something new is always exciting. And of course, the more lashes the better. They absolutely love fun colors that you might not necessarily wear every day. It's such a great time and moment to play dress up.
What new beauty looks are you excited to use this season as Mad Men moves into the late sixties?
Megan is experimenting with frosted lips so far — you saw it throughout the first episode. This is definitely a sign of the makeup evolution that was taking place.
What adjustments did you have to make for that period's makeup to look right but still authentic for the camera?
It's hard because we want to make them look really glamorous but still need to remember that they are "real" people who are working, so they can't be perfect. We definitely use heavier foundations for matte skin. Some of the younger girls and the background cast will have more transparent skin, so we'll use Nars's Pure Radiant Tinted Moisturizers, but the main cast has full coverage skin. I will actually use Cle de Peau concealer as a base for maximum coverage and a matte effect. We also use a lot of powder. Lips are typically matte, but because it's on-camera we'll want to give a bit of texture. So, for example, I'll use the Nars Velvet Matte Lip Pencils, which wear really well, but have the matte finish, which is so perfect for that time. Or, I'll use a matte lipliner and add Nars Velvet Gloss Lip Pencil in Hopi on top for just a slight sheen.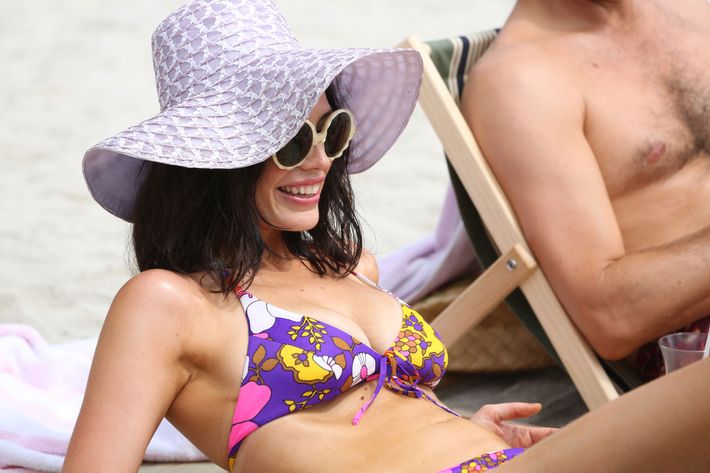 There's a scene in the premiere where Megan isn't wearing any makeup. What did "vacation" makeup mean back then? Was it an anomaly that she didn't have any on?
Megan wears Nars Bolero Velvet Matte Lip Pencil in that scene. She's on the beach, and she's out taking the sun, so she really wouldn't have makeup, but women really paid attention to lips back then, so we used a beach pink shade to give the appearance that she cares about her look but isn't going to wear a full face of makeup on the beach.