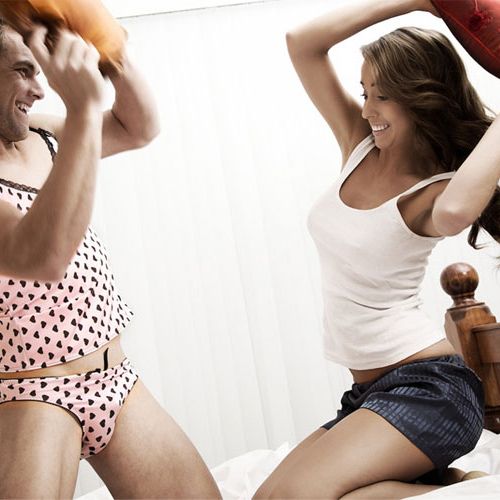 Hot?
Photo: hommemystere.com
Australian-based men's lingerie company Homme Mystere has been around for several years now, but recently turned heads with a fashion show in Las Vegas (and a corresponding runway video on their website). With new distributors in the U.K. and the U.S., they're eager to expand, and there's obviously a market for their projects — all you have to do is stroll through Chelsea to figure that out. But what's most interesting is that Homme Mystere is marketing their products primarily to straight men.
Enjoying the occasional romp in lacy panties doesn't mean you're gay, of course. And in theory, Homme Mystere agrees, according to their FAQ section:
We are not concerned if you are gay, straight, vegetarian, republican, anglican, martian or any other persuasion.
But their promotional images are not nearly so equal-opportunity. Most portray a man and woman wearing the exact same lingerie and gazing at each other seductively. A video shows a man dressed in a bra, panties, stockings, and heels; he's kissing a sexy woman. "Get dressed now, or I'll slowly peel these off of you," she threatens lustily.
Meanwhile, their "Customer Testimonials" section doesn't include any mentions of man-on-man action. Instead, there are comments about how much women love the products:
"Love the range = please keep it coming - my boyfriend and i love it - adds extra dimension to our sex life too – thanks"
Megan – Australia

"My Sister liked my French Affair Bra and Matching Panties so much she pinched them and won't give them back. I see you have sold out of the knickers in medium. If you get some more would you please hold a pair for me?"
David – Australia
So are men really buying these things to please women? Or to please other men? Or just to please themselves? Or MAYBE, just maybe, men are purchasing them to wear to the gym. Whatever floats your thigh-high, we say.