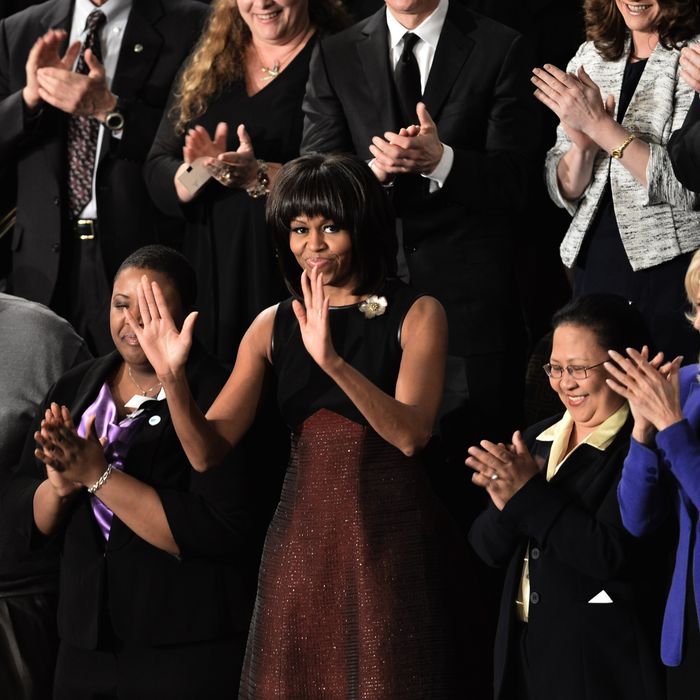 Michelle Obama.
Photo: Paul J. Richards/AFP/Getty Images
The American Society of Plastic Surgeons released their latest statistics today, and to no one's surprise, the cosmetic surgery industry had a great year. Noteworthy facts and figures: 91 percent of cosmetic surgery patients were women, more people are getting Botox than ever before, and breast augmentation is still the most popular surgery, as it has been since 2006. But there's one new and very interesting trend: Doctors have noticed a significant uptick in upper-arm lifts, also known as a brachioplasties.
A brachioplasty involves making an incision from the armpit to the elbow, usually along the back of the arm, to remove excess fat and skin. According to the L.A. Times, the number of these procedures is up 4,378 percent since 2000. Last year, 15,457 patients, 98 percent of them women, spent a total of $61 million on the surgery, which often leaves a telltale scar on the back of the arm. So why is it so popular these days? Doctors aren't sure, but apparently many patients cite Michelle Obama's arms as their goal result. The L.A. Times reports:
In a statement, the ASPS said that doctors didn't point to a single reason for the increase, but took note of poll data indicating that women "are paying closer attention to the arms of female celebrities" including Jennifer Aniston, Demi Moore and Kelly Ripa. The most-admired arms of all? Those of First Lady Michelle Obama.
You know what this means? It's only a matter of time before women are running around with Michelle's arms and Kate Middleton's nose. In fact, it's probably already happening.