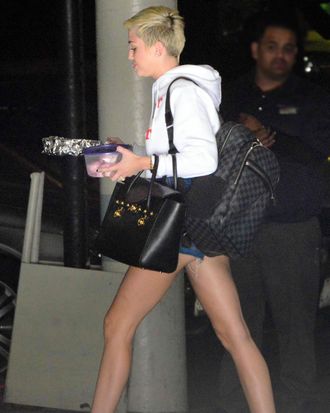 For a while I couldn't get used to the idea of Miley Cyrus getting married. She's only 20! She's still experimenting with drugs and hair lengths! Then I saw her carrying this Tupperware full of strawberries to her car in ankle-strap stilettos.
Is there any more potent symbol of maturity than a home-prepared dish in a resealable, dishwasher-safe container?
It demonstrates financial and environmental responsibility. It suggests the existence of a home where there is no room service. (You can't count on anyone who lives at the Chateau Marmont to contribute to your potluck.) Tupperware means planning ahead.
Pat yourself on the back, Disney Channel. This one turned out all right.