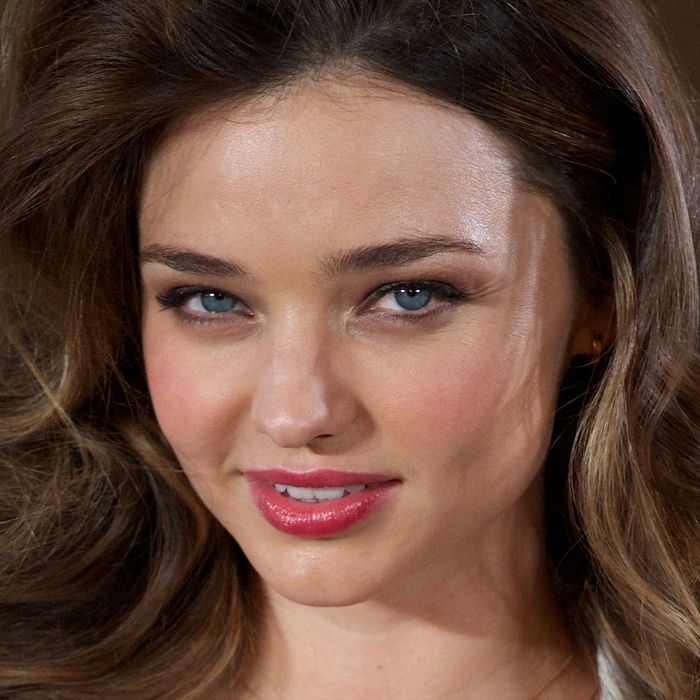 Miranda Kerr.
Photo: Carlos Alvarez/Getty Images
Despite lots of Internet attention yesterday, rumors of Australian model Miranda Kerr getting the boot from Victoria's Secret are simply untrue. However, the gossip stems from increasingly likely reports that she'll lose her yearly contract, and therefore her official "Angel" title.
To explain: She'll still work with Victoria's Secret, and appear in their ads and catalogues and annual runway show, but she just won't be part of the highest echelon of Victoria's Secret models, which currently consists of Adriana Lima, Alessandra Ambrosio, Behati Prinsloo, Candice Swanepoel, Karlie Kloss, Doutzen Kroes, Erin Heatherton, Lily Aldridge, Linday Ellingson, and for now, Kerr.
Victoria's Secret CMO Ed Rezek attempted to do damage control yesterday, releasing the following heartfelt statement:
Miranda Kerr is one of the best models in the history of the business — and easily one of the most popular. She is also a consummate professional. Any rumors to the contrary are simply untrue. We have no plans to stop working with her … While her international commitments have kept her away from us more than we'd like over the past few years, she will always be an Angel to me.
But! He didn't say anything about her contract, which probably means … well, exactly what you think it does.
So why is Kerr getting some distance? Yesterday's report in Us Weekly stated that she was "not a big seller" anymore and had "a difficult reputation." But today's Post says the real reason is that she's just too busy. Between proselytizing the effects of Noni juice, keeping up her yoga schedule, being the face of Mango and airline Quantas, and traveling with Orlando Bloom when he's filming movies (which, according to his IMDb page, doesn't happen a whole lot of these days, but no matter), Kerr can't fulfill the three months per year commitment that Victoria's Secret demands. Long story short, contract or not, you'll still see plenty of her.