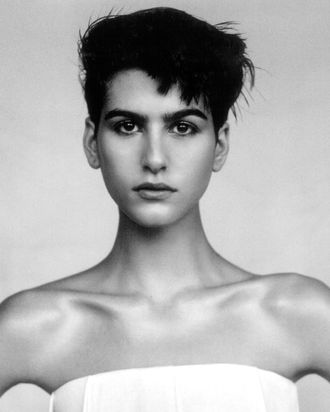 Photo: Vogue UK/Courtesy of Ford Models
Of all the possible reasons to pursue modeling, Athena Wilson supplied the Cut with the most original explanation yet: She wanted some spending money in order to purchase a "nice bike." One L.A. runway and $100 later, the Californian caught a Ford scout's eye, signed with the agency, and was on her way to New York Fashion Week for the spring 2013 shows. This past season, she turned up on 35 different runways, including Mulberry, Giorgio Armani, Theyskens' Theory, Mary Katrantzou, Ann Demeulemeester, Roland Mouret, and Mugler. The 19-year-old also walked the Dior Couture presentation in Shanghai and is featured in Louis Vuitton's spring campaign and this month's British Vogue. On a recent visit to our offices, Wilson discussed dressing up for career day in fourth grade, how to make a vegan quiche, and what it means to be the industry's new androgynous face.
Tell me about your childhood.
I was born in Long Beach, California, but I grew up in Orange County, and I did every sport. My dad is a diving coach — and he also produces independent movies and music — so he was my coach, and it was pretty much that, tennis, and volleyball. I was always outside. My mom is a mediator and works in the courts doing a lot of family mediation. She has her master's in peacemaking and conflict resolution, and she's such an inspiration. She went back to school after twenty years because she wanted to and she's the hardest-working person, but she also has natural talent.
Do you have any siblings?
I have a brother — he's a musician and goes to Berklee College of Music. He's two years older, but everyone thinks we're twins. He's actually done some modeling. I know he did a show once. He's so supportive of me and it's really sweet. I'd think, being a boy, you wouldn't really care that much about fashion, but he sends me pictures when he sees me in a magazine and brags about me to his friends.
Were fashion or modeling on your radar when you were younger?
Well, I went to an art school for seventh through twelfth grade, so I've had a visual take on life. But as far as modeling goes, I was never serious about it. Though, I do remember in fourth grade, when we had career day and you dress up as what you want to be when you grow up, I came in with a beret and a wig, and I had drawn on a beauty mark, and I told everyone, "When I grow up, I want to be a supermodel." It was bad. My mom has pictures somewhere.

So, how were you discovered?
[laughs] I wish I had a cool story. I needed a summer job to make money because I wanted to buy a nice bike. So I went on Craigslist, and I was like, No, I don't want to do manual labor. No, I don't want to do this. No, I don't want to do that. And then I saw modeling — it was for a runway show during L.A. Fashion Week — and I thought, All right, $100? Are you kidding me? That's amazing! And that's where I met a scout from Ford.
Your first New York show was Creatures of the Wind at spring 2013 and you opened.
Yeah! I really like the brand, but also the people behind it. Opening for them was an honor, because I respect them so much as artists, and they understood that and respect me as a model, so there was a mutual excitement about what we were doing. It actually wasn't nerve-wracking, but as I walked, I was trying hard not to smile. I was so, Hilary Duff, "This is what dreams are made of, hey now, hey now." [laughs] It had been my goal for a while and suddenly it hit me.
Another designer who's taken a liking to you is Mary Katrantzou.
I think that we have a great connection because we're both Greek — that was the first thing we talked about when I met her two seasons ago. When you're working with people that are fun, and kind, and you like them, it makes such a huge difference, even if you're not around them that much and it's only one fashion show. And getting to know Mary is really nice. I like that she's a young designer who's doing well. And at the spring 2013 show, I had these blunt bangs … this sort of Joan of Arc helmet haircut … and the hair for this past season's show had the same blunt bangs. Mary told me, "We were just so inspired." I was really flattered! And it's funny, because my hair grew out and I had to wear a wig.
And tell me about Ann Demeulemeester.
Her stuff is so cool. At the casting, she had me try on three different outfits, and I thought, These are clothes that I would actually want to wear. Because, I'm not going to lie: Sometimes the clothes you have to wear as a model are not the clothes you would wear in real life, and that's just expected. But it's much more fun when you feel like what you're wearing is already a reflection of yourself. You don't have to play a part; you can just have fun. Ann was meticulous. There were feathers in my hat, and she was angling them and making the slightest adjustments, and then whispering, "Yes." She really cares — she puts so much effort and thought into it.
How do you feel about being labeled an androgynous model?
I mean, everyone likes a boy-girl. I had my hair short before I started modeling, and a lot of girls cut their hair once they start modeling, because they think it makes them edgy or something, and there's nothing wrong with that, because everyone changes his or her appearance in some way. I stopped wearing, tacky, ironic T-shirts and started taking showers. [laughs] I'm kidding. But I've always had short hair and I've fluctuated between extreme tomboy, and extreme girly girl all of my life. I would say that everyone is multifaceted. I'm edgy and pretty. And it's so much more challenging when people are like, Let's put you in a princess dress with some glitter eyeshadow and see what you do. But as far as being recognized as androgynous, I'm fine with it, as long as others realize that it's not a gimmick.
If you weren't a model, what would you be doing?
Let's think … a traditional college education isn't something that appeals to me right now, when modeling is a short-lived thing. You can learn anytime. Ray Bradbury is one of my favorite authors and he said you don't need any sort of school, as long as you have a library membership. And, it's true — you can learn whatever you need to from books. Eventually, I want to look into sustainable farming, then at the same time I want to go to India to help clean up the Ganges river because it's a social issue, religious issue, and health issue all in one.
What do you do in your spare time?
I like cooking a lot. I've been vegan for five years and I make a really good quiche from pureed nuts and beans, and broccoli. And I go to museums, when I have the time. I have a friend who works in the vaults at the Met and she took me to see all of the books that they have stored down there — over 70,000 of them. I pulled one that was about tiara-making, how to make tiaras for the royal family.

Do you have any guilty pleasures?
Plenty.
Name one.
When I get home from traveling, I take my suitcase, I dump it out and I throw everything inside of it all over my room. It's my ritual, but I don't know why. It's just very relaxing.
Model Profile: Athena Wilson

Explore other rising stars (plus all the big names) in our extensive Model Manual, featuring runway pics, glamorous editorials, model bios, career timelines, and more.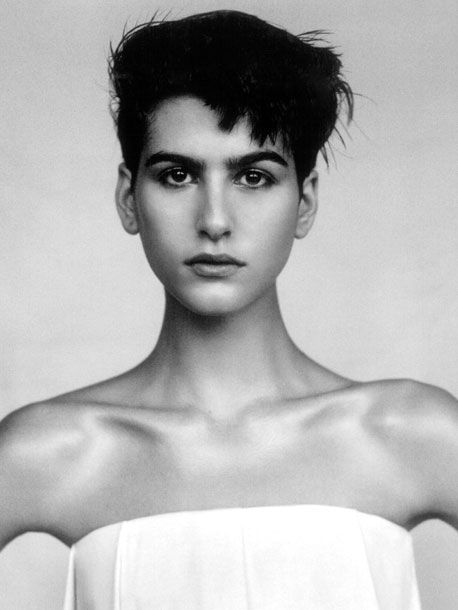 In a British Vogue editorial, April 2013. Photographed by Alasdair McLellan.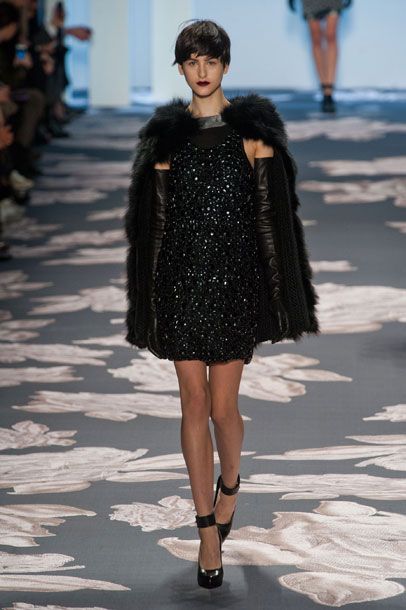 Walking the fall 2013 Vera Wang show in New York.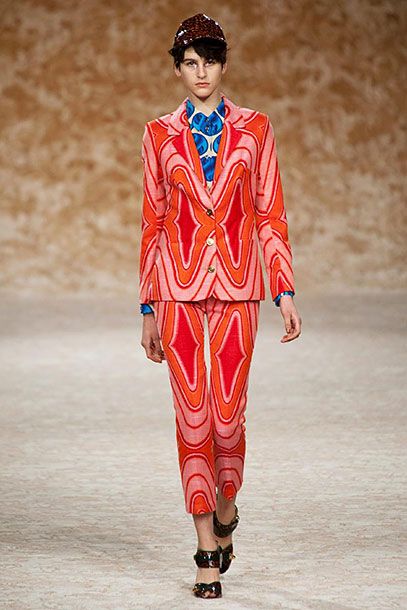 Opening the fall 2013 House of Holland show in London.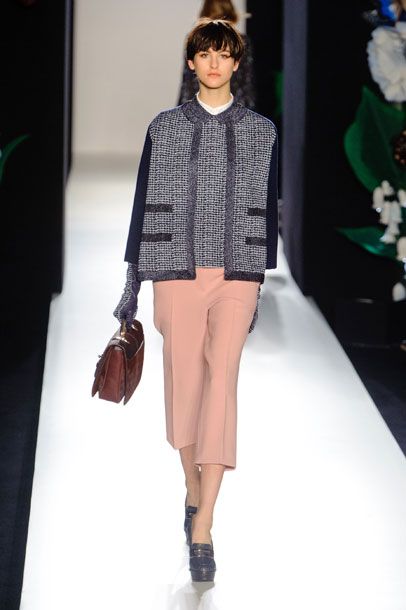 Walking the fall 2013 Mulberry show in London.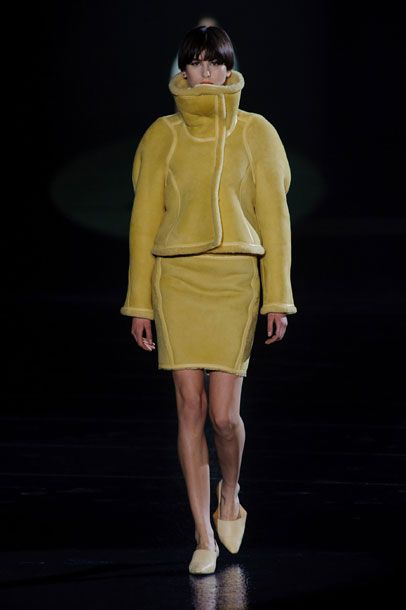 Walking the fall 2013 Mugler show in Paris.