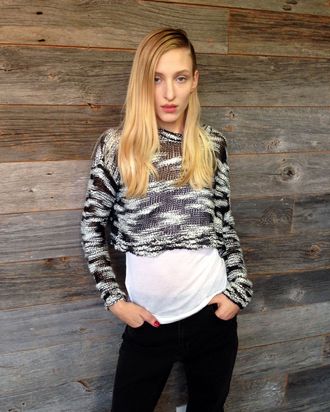 Maggie Maurer was at work when she got The Call … from Elmer Olsen, the agent responsible for launching Daria Werbowy's career, among others. Olsen and his crew had been trying to track down the 23-year-old, Potsdam, New York, native for the better part of a week after a friend submitted pictures of her — without mentioning it. From that point, Maggie moved up quickly: She booked a Calvin Klein exclusive for fall 2013, signed with IMG, and took turns for a handful of other brands including Maison Martin Margiela, Missoni, Cédric Charlier, Manish Arora, and Antonio Marras. She recently stopped by the Cut offices to discuss growing up with six siblings, the model walk vs. the natural walk, and some of the strange things she finds online.
Tell me about your childhood.
I'm from upstate [New York], a place called Potsdam — it's six hours away and on the Canadian border. It's where I was born and raised. There are seven kids in my family and I'm in the middle. The oldest is my brother Martin, then I have two older sisters, a younger brother, and two younger sisters. And my one sister and I are only thirteen months apart, so we were always best friends and did everything together. We were all home-schooled. And everybody still lives in Potsdam.
Are any of your siblings into modeling?
My younger sister Melody has a photographer friend, and he's the reason any of this even happened to me. I started working with him at a grocery store and it was so cold — I would wear two pairs of pants, a big sweatshirt, another jacket over it, a scarf, a hat, and gloves, and he would stand across from me and say, "We need to take pictures sometime." So we would do little projects; there's not a lot of people in our town who are interested in fashion. And he sent some photos to Elmer Olsen without telling me, and here I am.
Did Elmer sign you right away?
Well, my friend sent the pictures to Elmer, but Elmer couldn't reach him by e-mail. So for a week, he had everybody in his office trying to find me on the Internet, and they finally came across my Facebook and figured out the name of a clothing store I was working at. And they called the store as I was picking up the phone to call somebody else, so it didn't even ring. I heard, "You don't know who I am, but I know who you are." [laughs.]
Growing up, was modeling on your radar?
Yes and no. I've been this tall since I was 13 so people always told me I should be a model. And I love the art aspect of it. But then, my kind of control-freak side would kick in, and be like, No, you have no money, because I've always had to support myself. I couldn't move to New York City … no one really understands what it takes. Everyone thinks you become a model and it's suddenly glamorous. I was too logical for that. But I did always think I would take the opportunity, if it were presented to me.

What went through your mind at the Calvin Klein casting?
I'm more outgoing than most of the other girls — you're not sure if you should talk to them, because they're all so quiet and they have their headphones on and I'm just like, Hi! [laughs.] We were sitting in the hallway for a while and there was one girl who said, "This is ridiculous. It was supposed to be at noon," and, "I don't have time for this," and she left, and I was like, Do you know where you are right now? [laughs.] But working with Francisco Costa was amazing. And when I finally walked, with the cameras and the lights, you can't see anyone, which takes away some of the nervousness.
How was Margiela?
It was interesting — at the show, they said, "We don't want a 'model walk,' we just want it to be natural, as though you're walking down the street and nobody's watching you." And, obviously, you're more critical of yourself and you see things that other people don't see, but I think the pictures and the video from that show are the best ones.
What do you do in your spare time?
I live on the water, so when it's nicer outside, I go fishing — my boyfriend's sister and her boyfriend live across the street from us, and they have an old seventies houseboat, so we'll hang out and tan, and party a little bit. [laughs.] I'm a North Country kind of girl. I drive a truck, I have two dirt bikes, a three-wheeler, a boat, kayaks. I was thinking about getting a motorcycle this summer, but I'm not sure if I'll be home now.
Have you been able to go back upstate since the end of fashion month?
Once. My mom actually wrote two front-page articles about me in the local paper. Honestly, I didn't even read them because I was so embarrassed. They were like, Potsdam Girl Making it Big … Walking the Runways for Calvin Klein, Now on to Milan and Paris, or something like that.
Do you have to keep a different diet now?
I have a pretty healthy diet, anyway — I don't eat processed food. I try to buy stuff that's natural and grow things in my garden; I'd rather cook than go out to dinner. During fashion week, because you don't have a lot of time, or maybe you don't have a kitchen, you have to be a little crafty. But it's also hard because there's a peer pressure thing with food. People will say, "Eat, eat!" and I'm not hungry because I eat smaller meals throughout the day … and then they think, Oh, you're trying not to eat because you want to stay skinny. It's not like that at all. What you put into your body effects everything about you — your mood, your skin, your hair.

If you could meet anyone, dead or alive, who would it be?
I don't know why, but the Kennedys are running through my mind — Carolyn Bessette, or JFK, Jr., or President Kennedy.
Do you ever Google yourself?
Not before all of this, but I do now! My boyfriend found this post comparing models to animals, David Attenborough–style [ed. note: here] — David Attenborough does the narration for Planet Earth. The first one is Jessica Stam and a lion, then there's me and a giraffe … Gisele is in there somewhere … it's me and all of the top girls. It's hilarious.
Model Profile: Maggie Maurer

Explore other rising stars (plus all the big names) in our extensive Model Manual, featuring runway pics, glamorous editorials, model bios, career timelines, and more.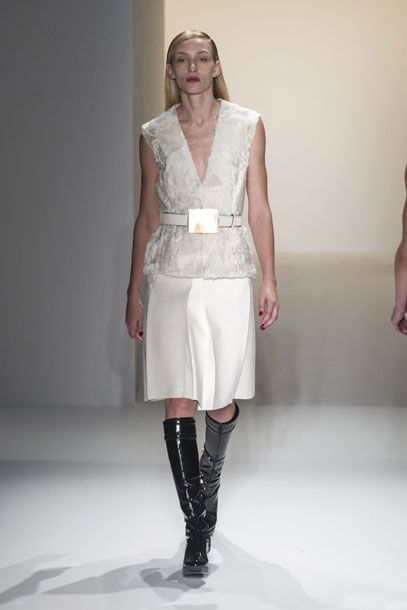 Walking the fall 2013 Calvin Klein show in New York as an exclusive.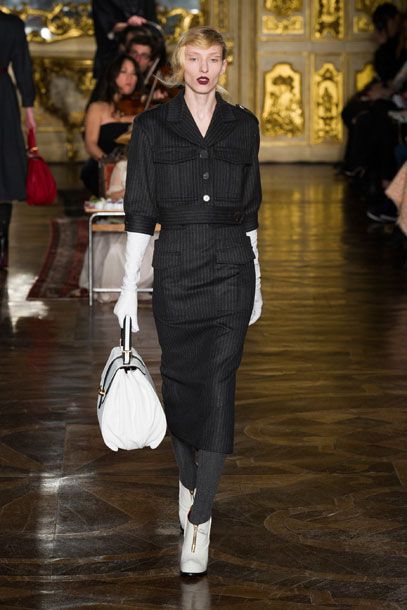 Walking the fall 2013 Antonio Marras show in Milan.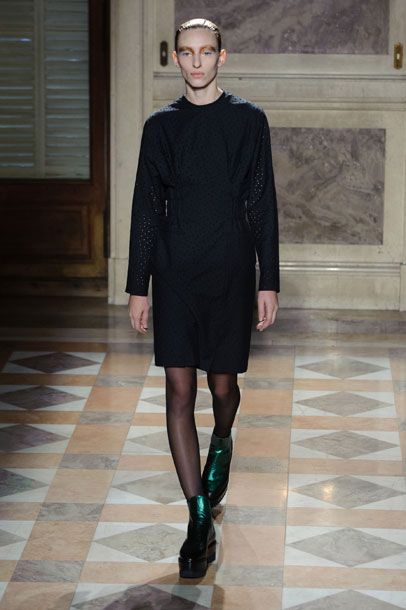 Walking the fall 2013 Damir Doma show in Paris.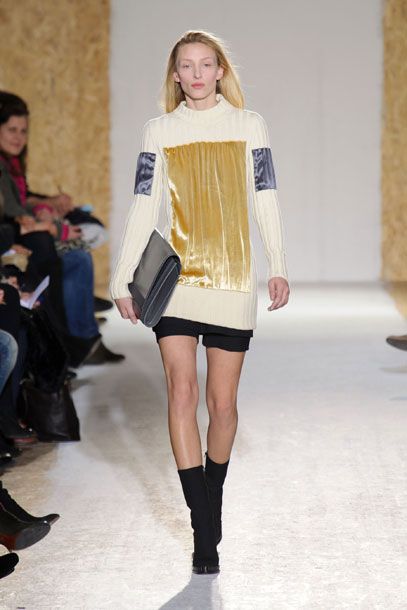 Walking the fall 2013 Maison Martin Margiela show in Paris.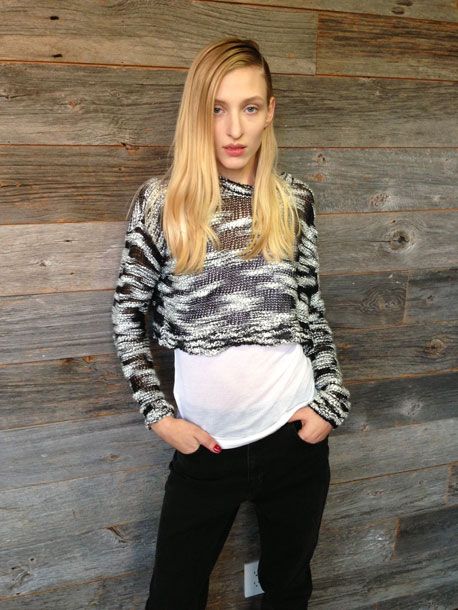 Test shot, 2013.