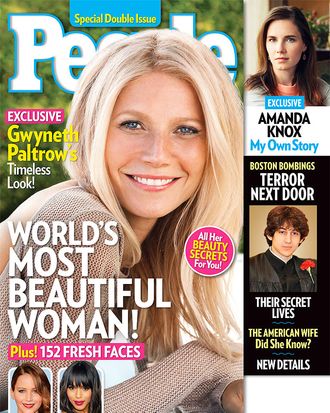 Are the tabloid gods trying to tell us something? One week after Star declared her Hollywood's "Most Hated Celebrity," People magazine has named Gwyneth Paltrow "World's Most Beautiful Woman."
Earnest onlookers will conclude that the world hates beautiful women. Jaded onlookers will conclude that pubicity is a double-edged sword; the same hard-nosed PR strategy that lands you on the cover of People, golden hair bathed in sunlight and wrinkles erased, will also attract haters. To succeed in Hollywood, you must shove yourself down everyone's throat. To shove yourself down everyone's throat is to induce gagging.
Poetic onlookers will contemplate the beauty of hate. GOOP newsletter subscribers will cite jealousy. Gwyneth, meanwhile, will go about her business undisturbed, discussing her family and diet and bowel movements with magazine reporters and in weekly e-mail blasts. Being the most at everything is her job.