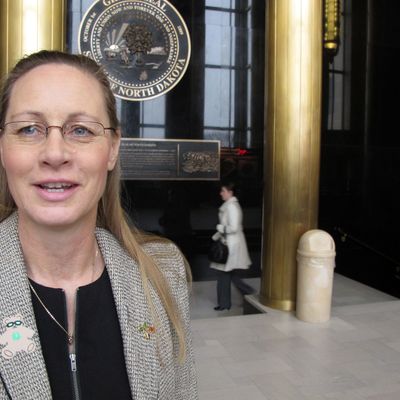 Photo: James MacPherson/Corbis
North Dakota State Representative Bette Grande — the architect of the state's new and unconstitutional "heartbeat" abortion ban — is confident that once the bill goes through, women won't want the abortions it restricts anyway. The bill, which will make it a felony to perform an abortion after a fetal heartbeat can by detected by vaginal ultrasound (around six weeks), is scheduled to go into effect August 1, although the Red River Clinic — the state's only abortion provider — is confident it can get an injunction against the ban before then.
"It does give people the opportunity to realize that there is a beating heart," Grande told local news outlet InForum. "People are recognizing that. […] I appreciate the fact that it will change hearts and minds."
As for all the women who don't change their minds, the ongoing trial of Philadelphia abortion provider Kermit Gosnell is a good reminder of what happens when women can't access abortions, either because they can't afford them or laws restrict them: They get them illegally and in life-threatening conditions.
"Kermit Gosnell's so-called clinic is a peek into the world before Roe v. Wade," NARAL President Ilyse Hogue told the Huffington Post, "and this is exactly what our opponents are driving us to."
Meanwhile, the Red River Clinic is already tied up in litigation against the state (represented by the Center for Reproductive Rights), regarding a 2011 law that would ban one of the two drugs used in combination for a medical abortion because its FDA label use is for ulcers.