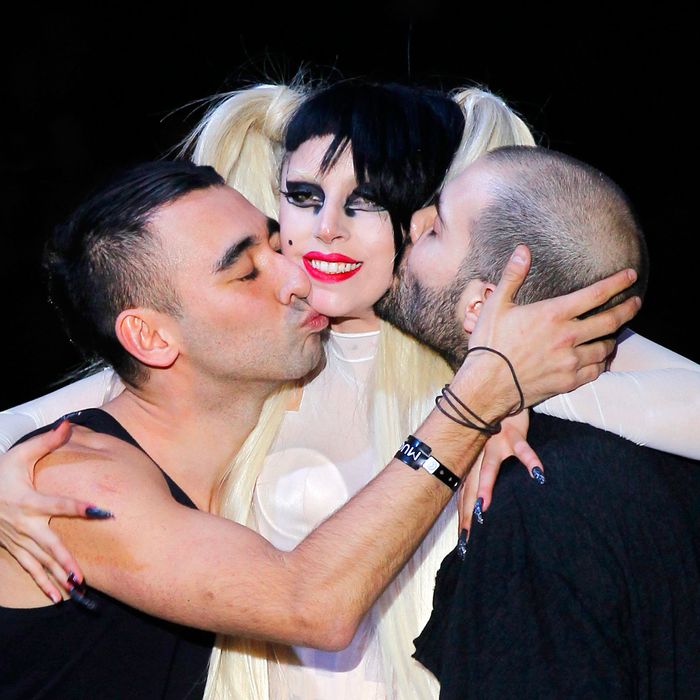 Photo: FRANCOIS GUILLOT/AFP/Getty Images
After two and a half years as creative director for the men's and women's collections, Nicola Formichetti is leaving his post at Mugler "by mutual agreement," WWD writes. Joel Palix, president of Clarins Fragrance Group and director general of Mugler, said in a statement: "With his talent for communication and understanding modern imagery and design, Nicola has been instrumental in attracting a new audience which is undeniably crucial for the future strategy of the house. He will be a historical part of the Mugler legacy and known as the force that catapulted us forward."
Formichetti has yet to comment, but yesterday, he did tweet:
Smiley face, heart, panda, heart — we should have seen this coming.
During his tenure, Formichetti, who doubles as the Haus of Gaga's creative director, had the pop star contribute to his efforts. She provided the soundtrack for his first two shows and walked his womenswear runway — and explained the concept of Mugler to Suzy Menkes with a wag of the finger. Last September, Formichetti presented his inaugural handbag line for the brand, which was inspired by Lady Gaga's tush.
According to WWD, Palix is currently working on a plan for Mugler "that builds on its highly successful legacy in fragrance and its new momentum in fashion."